IAVM member Barry Smith, CMA, is among several individuals who will be honored after the Events Industry Council announced the 2019 Hall of Leaders inductees and Pacesetter award winners. The recipients will be honored at a celebration as part of IMEX America on September 10 from 6-10 p.m. at LIGHT Nightclub at MGM's Mandalay Bay Resort & Casino in Las Vegas.
Hall of Leaders is the premier recognition program in the events industry that recognizes a lifetime of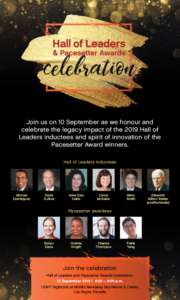 achievement by meetings and events leaders. This year's inductees join 131 previous honorees who have had an integral role in shaping the industry.
The Hall of Leaders 2019 inductees are:
 Michael Dominguez, CHSE, President and Chief Executive Officer, ALHI (Nominated by Events Industry Council Board of Directors)
 David DuBois, CMP, CAE, FASAE, CTA, President and Chief Executive Officer, IAEE (Nominated by International Association of Exhibitions and Events)
 Anne Daly Heller, Publisher, USAE (Nominated by Searchwide Global)
 Carole McKellar, MA, CMM, Vice President EMEA, HelmsBriscoe (Nominated by Meeting Professionals International)
 Barry Smith, CMA, Executive Director, Convention Centres Canada (Nominated by International Association of Venue Managers)
 Ellsworth Milton Statler (posthumously), Owner, Statler Hotels (Nominated by USAE)
The Pacesetter Awards recognize the valuable contributions individuals are making to impact the events industry today, as well as charting the course for a thriving future. The 2019 Pacesetter Award recipients are:
 Young Professional: Robyn Davis, Trade Show Strategy Specialist, WINH (Nominated by Robyn Davis)
 Sustainability and Social Responsibility: Desirée Knight, CAE, CMP, Director, Education and Meetings, AREMA (Nominated by The Kilman Group)
 Sustainability and Social Responsibility: Chance Thompson, Senior Manager, Sustainability and Public Relations, Salt Palace Convention Center (Nominated by AZano, Inc.)
 Innovation: Frank Yang, PMP, CMP, CEM, Director, Convention Marketing, KINTEX (Nominated by International Congress and Convention Association)
"These distinguished industry pioneers and emerging leaders demonstrate a deep commitment and passion to advancing the events industry in meaningful ways," said Amy Calvert, CEO, Events Industry Council. "Steeped in more than three decades of history, these recognitions celebrate the individuals who have redefined our industry and left an impactful legacy. This year's esteemed inductees exemplify the influence, altruism and innovation commensurate of this renowned recognition. We are privileged to welcome them into the prestigious group of past
honorees and celebrate the collective contributions of all our Hall of Leaders. This year's Pacesetter Award winners represent a group of emerging leaders in the events industry with a steadfast commitment to innovation and sustainability. We are thrilled that the selection committee decided to award two Sustainability and Social Responsibility Awards in 2019. This decision reflects the Events Industry Council's desire and commitment to establishing a unified voice to drive significant change."
For information about sponsorship and purchasing tickets to attend the awards celebration, please visit eventscouncil.org/hall-of-leaders-celebration.