BC Place Stadium in Vancouver, one of the world's busiest venues, is set for a future new revenue stream as a naming rights sponsor is sought for the first time. PavCo, facility owner and operator, will issue the RFP to launch the process.
The stadium hosts more than one million people each years to a wide-ranging schedule of events in resident anchors BC Lions of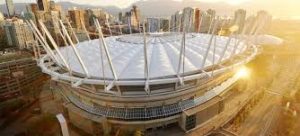 the Canadian Football League and Vancouver Whitecaps of Major League Soccer. The 54,000-seat stadium is also home to the annual Canada Sevens, part of the World Rugby Sevens Series.
As with other naming rights deals, finding a suitable partner is huge in helping to offset the venue's operations costs. PavCo is managing the overall consultation process along with approvals from government. A field of finalists is expected to be announced at some point in June with the eventual winner named in July.
"This naming rights sponsorship opportunity will make more funds available for government to improve the services that British Columbians count on," said Lisa Beare, Minister of Tourism, Arts and Culture, in a release. "We believe this is an excellent time to look for the right corporate partner for this important facility in B.C., and through that sponsorship, generate significant benefit for British Columbians."
BC Place Stadium opened in 1983 and through the years has had only one naming rights consideration before the latest approval to move forward.