By R.V. Baugus
Brad Gessner, CVE, ASM Global's Senior Vice President, Convention Centers at the Los Angeles Convention Center, bid a retirement adieu to the industry earlier this year after a sparkling 42-year career in public assembly venue management.
Let's just say before he left the building, he was ushered back in for a curtain call during VenueConnect to be recognized with the 2020 Lifetime Achievement Award as bestowed by IAVM's Convention Center Committee.
Gessner was surrounded on a Zoom screen by the top individuals at four of the AEG venues that the long-time industry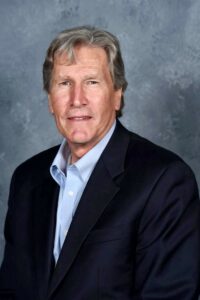 veteran oversaw in Rob Hampton, Palm Springs Convention Center; Teri Orton, Hawaii Convention Center; Jorge Perez, Puerto Rico Convention Center; and Ellen Schwartz, Los Angeles Convention Center; along with Committee Chair Naz Sabripour.
"Although I retired at a great time, I do miss working with you guys and the great teams in LA, Hawaii, Puerto Rico, and Palm Springs. What I really got out of all this is it sounds like I've got a free hotel room in four resort communities," Gessner said after each of the four gave the boss a standing offer to visit anytime."
Turning serious, Gessner thanked Stacey Church and the committee for selecting him and placing him in – appropriately named enough – distinguished company.
"Honestly, when you retire you get scratched off the list and you go to the bone yard but when I got Stacey's call I was surprised and I was flattered and really appreciative to receive this recognition," Gessner said. "I'm in good company. I remember the first year it was awarded and I'm shocked that I'm in their company. All of them are people that I knew and admired and still do and all have been and are great leaders in our industry."
Gessner then proceeded to provide a roll call of Who's Who names who previously were recognized with the award, including Tom Liegler, Don Jewell, Jimmie Fore, Dan Saunders, Cliff Wallace, John Christison, Dick Shaff, Tom Mobley, Peggy Daidakis, Bob Mayer, Carol Wallace, Frank Poe, Steve Schwartz, and Jeff Blosser.
"To be in that company is very humbling and most of you who know me there's not much humbly about me but it definitely has humbled me," he said. "I also want to thank Bob Newman and the opportunity he gave me back in 2012 to start a new convention centers department with AEG. Bob is now the president and CEO of ASM Global, a powerhouse company, but it was Bob's leadership and his support of me really gave me the opportunity for us to do what we were able to do in LA, Hawaii, Puerto Rico, and Palm Springs. We were four-for-four and for that I am obviously very proud."
Gessner gave credit to all of the teams assembled at all the venues he has worked and led.
"It has been a great 42-year career and I'm not telling any of you anything you don't know that we really are in an incredible profession," he said. "We manage buildings generally, but the folks that we work with means we are really in the people business. Although I am very proud of a lot of the accomplishments that we did and I always say it takes teamwork, I think the one achievement that I'm most proud of is being able to assemble really good people and to be able to see so much character and look at their experience and their work ethic and their content of character."
Then to be able to get the folks that are on our team to perform incredibly and the things that we accomplished together I really do believe that it is a major teamwork. I want to thank Bob Newman and the whole team from AEG for making us all look good because it was one heck of a deep bench."
Gessner finished his remarks by acknowledging his decades-long affiliation as an IAVM member and urged individuals to become engaged in the association.
"I was one of those old-school guys that didn't want to give up the IAAM name (before it was changed to IAVM) just because that's what it had always been," Gessner said. "Having been a member for over 30 years and what the association provides to us members through networking opportunities, educational opportunities, advocacy and helping to find a way for us to reopen and get everybody back to work … support IAVM, get active in IAVM."
Attendees who missed this prerecorded portion of the session can still view it by clicking HERE. The full conference recordings, even those held live this week, will be available beginning November 3rd through the conference platform.