From Berry Center
On October 2, 2019, Berry Center, the multi-purpose facility owned by Cypress-Fairbanks (TX) Independent School District, hosted funeral services for Harris County Sherriff's Deputy Sandeep Dhaliwal. On September 27, 2019 Deputy Dhaliwal was shot from behind during a routine traffic stop.
The funeral ceremonies began with a Sikh religious service followed by a law enforcement service. Guests then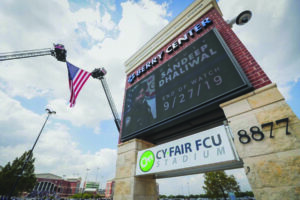 exited the facility, preceded by the family and flag draped coffin, to the front plaza for final honors. Honors included two trumpets playing Silver Taps, presentation of the flags to the Deputy Dhaliwal's widow and father, a 21-gun salute, a helicopter flyover and concluded with 30 bagpiper tribute.
State and City dignitaries such as Senator Ted Cruz, Lieutenant Governor Dan Patrick and Houston Mayor Sylvester Turner attended to honor Deputy Dhaliwal's service and speak to the family and community.
Every department at Berry Center worked tirelessly from Saturday when the Harris County Sherriff's Office called to make arrangements, to Wednesday morning when doors opened for the ceremonies.
A unique feature of the facility is an in-house production staff capable of creating broadcasts for television and web streaming. The production staff, led by Sean Ramsey, Berry Center assistant director – production services, worked with a tentative outline of speakers and music and relied on their live broadcast knowledge and state of the art equipment to capture every breath-taking moment.
The production support was extremely sensitive to various personal needs of the family, while coordinating with local media to create a broadcast for the world to watch. The broadcast of this event was fully directed, engineered, operated and produced by the Berry Center production team: Ben Macalalad, James Ness, Larry Brehm, Terri Batcheller, Daniel Life, Anila Harden, Mark Bergeron, Andy Klarer, Alex Carias, Andre Laquindanum and Elias Flores.
The broadcast was also supported by seven camera operators and various technical crew. Coverage was delivered to the local CBS affiliate who served as the host to the other stations around the world.
6,367 law enforcement members and guests traveled from all over the U.S., Canada, and Asia to be present for the services and celebrate the spirit that Deputy Dhaliwal leaves behind.