By Blair Cardinal
The Big 12 Conference has partnered with Oak View Group, a leader in the management of collegiate athletic facilities, to assess and optimize safety and security among its member schools to improve the gameday and post-game celebration experience for Big 12 student-athletes, game officials, team personnel, and fans. In addition to safety and security, Oak View Group will evaluate all aspects of venue and fan experience at each member institution, providing best practice recommendations for multiple elements of the gameday experience.
Prevent Advisors, highly regarded security specialists in sports and live entertainment facilities and a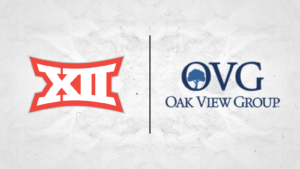 flagship service company of Oak View Group (OVG), will conduct quality assurance audits at all Big 12 football and basketball venues. Last weekend, the Prevent Advisors team conducted gameday audits at five football stadiums and will evaluate the remaining facilities – including incoming members BYU, Cincinnati, Houston and UCF – before the end of the season. The team will then progress to assessing all Big 12 basketball venues.
Using a proprietary systematic assessment program specifically designed to fully evaluate all components of a venue's physical security measures, Prevent Advisors' Red Team Assessment Services – which received a coveted SAFETY Act Designation from the U.S. Department of Homeland Security earlier this year – will deliver venue-specific feedback to spotlight key strengths and areas for improvement. The team will then develop minimum recommendation standards for each facility, with particular focus on post-game celebrations. Following that, Prevent Advisors will hold a Conference-wide training summit to share results and best practices. A working committee will be formed with representatives from Conference member schools to work alongside OVG and Prevent Advisors.
"Ensuring the safety and security of all of our gameday constituents is crucial," said Big 12 Commissioner Brett Yormark. "Our partnership with Oak View Group and best-in-class Prevent Advisors will allow us to quickly uncover our strengths and areas for improvement. Additionally, this partnership will allow us to be proactive in bettering all aspects of the gameday experience across our Conference."
OVG oversees a combination of venue management and hospitality operations at several Big 12 Conference schools, including University of Texas and Texas Tech, as well as at incoming member schools UCF and Houston.
"The Big 12 Conference is one of the most prominent Conferences in the nation, and we are delighted to be working together with them in this new increased capacity," said Tim Leiweke, chairman and CEO of Oak View Group. "The grand scale of this partnership is ideal because of OVG's profound, broad-reaching knowledge of collegiate athletic facilities, and it's fantastic to see Brett, his team, and Big 12 member schools placing the safety of student-athletes, fans, and employees at the top of their list. Through this deal, Big 12 is getting ahead of the curve on safety and security, which are both very important parts of the overall fan experience."
Prevent Advisors assists its clients – stadiums, arenas, and convention centers – to further enhance their overall security apparatus by addressing security needs, creating ongoing security policies and procedures, implementing these procedures, and continuously adjusting as needed. Client-partners of Prevent Advisors include professional sports leagues and teams, sport and live music entertainment venues and festivals, and corporate campuses.
"The Big 12 Conference is taking a critical preventative step to ensure safety on the field and on the court – during as well as after the games," said Michael Downing, Chief Security Advisor for Oak View Group's Prevent Advisors and former Deputy Chief, Counter Terrorism and Special Operations Bureau, Los Angeles Police Department. "For venues, it's about honestly evaluating a facility's strengths and weaknesses, and taking proactive, meaningful steps to better operations to the benefit of student-athletes and fans alike so that everyone can enjoy the game in a safe and secure environment."
Blair Cardinal is Vice President, Communications for OVG360.