William Arthur "Bud" Cunningham, of Manteca, California, born on June 29, 1928 in Newark, New Jersey, passed away peacefully at age 89 on May 8, 2018.
William is survived by his wife of 66 years, Mary Theresa Cunningham. Mary and Bud moved to Manteca in 2001 – after 37 years in San Leandro. Their life together was filled with adventure, excitement, love, and laughter.
He is also survived by his five children: son, Bill Cunningham (Joanne); daughters, Mary Anderson (Dennis), Kathy Pietrunti (John), Nancy Calderon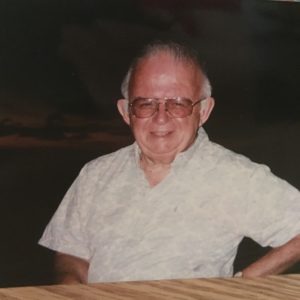 (Phillip), and Theresa Stevens (James); seven grandchildren: Colleen Anderson Guidi (Scott), Michael Anderson, Stephen Pietrunti (Maria), Megan Pietrunti, Lindsey Calderon, Nicole Stevens, and Andrew Stevens; and two great-grandchildren: Ryan Guidi and Mia Guidi.
William is a graduate of Panzer College, East Orange, N.J., and completed graduate business studies at The Wharton School, University of Pennsylvania.
He was in the Facility Management industry for most of his career. He served at the Philadelphia Trade and Convention Center as an Assistant Director from 1957-1964; at the Oakland-Alameda County Coliseum Complex as General Manager until 1980; and Coliseum Consultants as the President until retiring in 1995. He was elected President of the International Association of Venue Managers (IAVM) from 1973-1974, then received the Charles A. McElravy award in 1978, the industry's highest honor, for his contributions to the organization and profession. His career coincided with multiple championships for his beloved Oakland Athletics, Oakland Raiders, and the Golden State Warriors.
"Bill Cunningham will always be remembered for his passion for the profession of public assembly venue management, his consistent willingness to mentor anyone new to the field who expressed an interest, and of course, his terrific sense of humor," said Bob Mayer, CVE, a long-time friend and also a fellow past IAVM president. "He helped and mentored me in many ways during my years on the Board with some special guidance, direction, and advice. His love of the Association was sincere and a part of his fabric. He will be missed."
Friends and family can pay their respects at the memorial service on Friday, May 18 from 11:00 to 12:00 p.m. at St. Joan of Arc Catholic Church, 6404 Washington Street, Yountville, California, 94599. In lieu of flowers, donations can be made to charity in his memory.
For an article that speaks greatly to his work in the public assembly venue profession, click here.