From Blue Jays media
On the heels of fans first experiencing the newly renovated Rogers Centre Outfield District, the Toronto Blue Jays announce three new premium clubs to open during the 2024 season as part of the next phase of Rogers Centre renovations.
The new premium clubs will be located beneath a completely reimagined lower bowl, connected to the best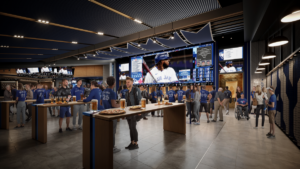 seats in the ballpark, with entertainment experiences. Each club offers a differentiated experience to satisfy unique fan interests, with personalized level of service including private members entrance and in-seat dining. Capacities are limited and are available as full or multi-season memberships.
"The types of entertainment experiences fans are looking for have evolved dramatically since Rogers Centre opened in 1989, and our ballpark currently has among the fewest premium experience options compared to MLB and other entertainment venues in Toronto," said Mark Shapiro, President & CEO, Toronto Blue Jays. "The next phase of renovations will introduce more of the amenities we know Blue Jays fans want – compelling premium experiences that uniquely cater to the Greater Toronto Area."
Three New Premium Clubs
Batting Tunnel Club (behind home plate – third base side) – for passionate fans to enjoy an authentic – yet elevated – sports bar atmosphere, punctuated by direct views over the home dugout and into the Blue Jays batting cage; design and décor feature memorabilia and tributes celebrating the team's greatest moments (pictured).
Home Plate Club (directly behind home plate) – from all access to exclusive, the Home Plate Club is the very best that Rogers Centre has to offer with an unprecedented culinary experience, prestigious best-in-ballpark 'In the Action' seats, and the only membership with access to all three clubs.
The Lounge (behind home plate – first base side) – a private and intimate atmosphere with Blue Jays baseball as the backdrop, where fans can proudly host colleagues, family, and friends; as the largest of the three clubs, fans can seamlessly flow between work and play with an expanded culinary menu, live preparation chef's table, in-club entertainment from pre to postgame, and a professional ambiance for hosting.