By Alyssa Meyer
ExtraMile Arena has gone from hosting Metallica to Boise State classes, transitioning from a live entertainment arena to an expanded classroom. Staff have worked extensively across all departments to get ready for this change, and the collective ExtraMile Arena staff is so excited to play this important role in our campus community!
Highlights from the first day: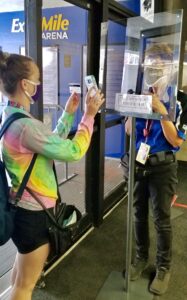 2 Classrooms simultaneously hosting distanced classes
792 total students for the first day of class
Classes varied from University Foundations, to Psychology to Business!
All students entered voluntarily wearing facial coverings
Nearly 86% of students opened their emails noting where to enter, how to access the necessary technology for the classroom, how to access their assigned seats, etc.
The Registrar's Office is sending daily reports of adds and drops to our Box Office team to be able to update enrollment and assigned seating in a timely manner – thank you Registrar's Office!
The arena has received GREAT support to get the classrooms' infrastructure setup – thank you OIT!
In total, the arena will play home to a total of 18 classes a week and 2,100+ Boise State weekly Students this semester. While this semester may look different than those in the past, this campus community is coming together in an unprecedented way.
Thank you to everyone in our Boise State Campus Community for helping make the transition from concerts to classrooms so seamless.
Alyssa Meyer is Assistant Director Marketing & Brand Development at ExtraMile Arena.