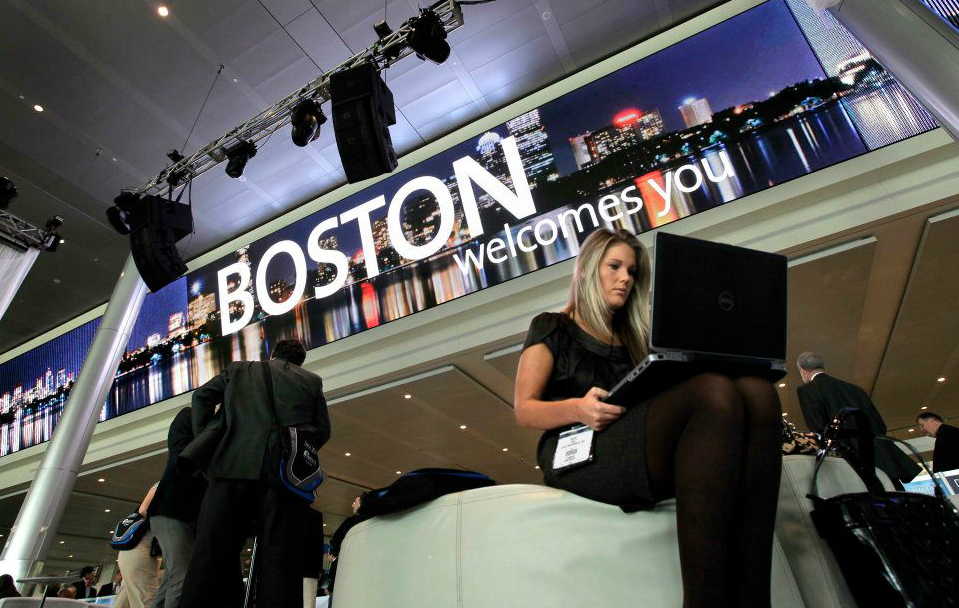 The Boston Convention & Exhibition Center (BCEC) is getting a wireless overhaul, as the Massachusetts Convention Center Authority (MCCA) begins a $2.6 million upgrade for the venue. The upgrade will increase the number of existing wireless access points from 113 to at least 580, meaning a 413 percent increase in number of access points throughout the BCEC.
The MCCA has upgraded the wireless infrastructure at the BCEC four times since 2004. The implementation of this wireless network will mark a complete overhaul of the original wireless infrastructure, and a transition from a traditional "coverage" wireless system, which focuses on signal strength over a wide area, to an advanced "high-density" system. The new system will increase the BCEC's wireless capacity, sending focused beams of wireless connectivity. More powerful access points enable more users to connect per access point, resulting in significantly improved signal strength.
"Today's meeting attendees come to conventions with at least two Wi-Fi enabled mobile devices and the expectation that they will receive reliable, fast wireless connectivity," said IAVM member James E. Rooney, executive director of the MCCA. "Boston is the hub of innovation and technology leadership, so meeting professionals and event attendees expect more from Boston. Our goal is to operate the two most technologically advanced centers in the world, not according to us but in the judgment of our clients.  We are confident our latest investment in our wireless infrastructure will allow us to further exceed the expectations of our BCEC customers."
The project is slated to be complete for live-testing and phased implementation in May through September 2015. Also in 2015, the MCCA will begin developing a plan for a wireless upgrade at the John B. Hynes Veterans Memorial Convention Center for installation in 2016.
(Image: MCCA Facebook page)