Tacoma Venues & Events announced a multi-year alliance designating Heritage Bank as title sponsor for the Heritage Bank Box Office at the Tacoma Dome.
Through this partnership, guests will see new Heritage Bank Box Office signage on the exterior of the venue and branding will be incorporated throughout ticket sales materials.
Heritage Bank was founded in 1927 with the belief that when banks and neighbors work together, great communities grow stronger. Heritage has remained true to this vision—and close to its roots—offering financial solutions that put their customers first. Their business bankers in downtown Tacoma are dedicated to understanding customer's business and providing personal expertise and products that they need to be competitive in today's marketplace.
"We are honored to partner with an organization that reflects our core values including providing an outstanding and unique experience for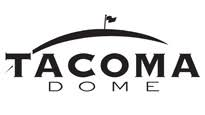 every customer," said Tacoma Venue & Events Director Kim Bedier, CFE.
"Heritage Bank is excited to partner with the Tacoma Dome," said Nigel English, SVP, Commercial Banking Regional Manager for Heritage Bank. "The Heritage Bank brand is centered on community roots. Partnering with one of the community's best gathering places was a natural fit with our commitment to stability, strength and longevity."
Ticketmaster will continue to operate the Heritage Bank Box Office. More than 500,000 tickets are sold annually to Tacoma Dome events. Events currently on sale include Maroon 5, Monster Jam, Jeff Dunham, Shania Twain, Katy Perry, and more.
This exterior change is one of many scheduled for the Dome. Renovations, including state-of-the-art telescopic seating, modified loading docks and dressing rooms will provide an enhanced experience for guests, promoters and artists. Construction will be completed fall of 2018.