Brad Gessner is senior vice president, general manager of the AEG Facilities-managed Los Angeles Convention Center. He provides the following update on fellow AEG Facilities-managed Puerto Rico Convention Center in the wake of Hurricane Maria and its devastation.
I finally was able to connect with (Puerto Rico Convention Center General Manager) Jorge Perez via cell phone this morning (Wednesday). He got me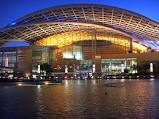 current with all that is going on in Puerto Rico, and the PRCC.
Jorge and his family, as well as Omar, Noelia and their families, are all staying at the Sheraton next to the PRCC as many of the roads in Puerto Rico are inaccessible and there is a 6 pm curfew in effect.
The PRCC sustained very little damage and is largely back to normal. FEMA has contracted the PRCC as their Command Center and will be paying full rent for at least the next 30 days. They are housing 600 FEMA workers and contractors at the PRCC.
In addition, there are close to 200 evacuees/victims of Hurricane Irma from the other islands that the Puerto Rican Government welcomed and are housing at the PRCC.
Our AEG Facilities team under Jorge's leadership was ready for this and made sure the three generators (Cummins) were serviced and operational as well as all diesel fuel tanks were full. The PRCC generators are capable of providing generator power for close to 30 days with the full tanks.
We also had Levy Restaurants purchase maximum food & beverage supplies prior to Hurricane Maria in anticipation of the PRCC housing large numbers of people, be it FEMA staff, evacuees, etc.
The PRCC, with approval from the PRCCDA, has entered into an agreement with FEMA to house the FEMA staff and feed them, with all costs and fees being paid by the Federal Government.
This past Sunday the AEG 1-Source team and others assisted in arranging for Cummins technicians to assist with maintenance of the power generators at the PRCC. The local Cummins technicians are on site providing needed oversight and maintenance to ensure they remain operational. This morning one of the generators was down and they were conducting repairs. This was the generator providing air conditioning. Jorge thought it would be brought back online later today.
I asked Jorge if there was anything we could do at this point to support their work and efforts, and he indicated they were fine at this point. He did indicate the island was devastated, and there was looting and general lawlessness in many parts of Puerto Rico, but that the PRCC District was protected by police and other law enforcement.