By Rich Thompson
This past Monday, March 23, the VenuWorks-managed Bridge View Center in Ottumwa, Iowa, began their partnership with the Ottumwa YMCA & Ottumwa Community Schools in developing an Emergency Meal Distribution Program, in which we utilize our facility and kitchen to assemble and distribute 1,000 lunches and 1,000 dinners daily to area children, with those numbers looking to increase as warmer weather arrives in a few weeks.
Distribution options include drive-up service during predetermined times at the Bridge View Center, as well as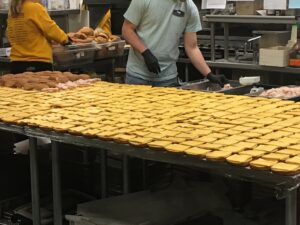 16 other designated locations community wide. Delivery options are also available in certain circumstances.
Bridge View Center's Executive Chef Bob Newell and his team of volunteers have been working 14+ hour days in implementing this program, along with their help from Ottumwa Community Schools' food service managers, and Ottumwa YMCA's staff and volunteers covering all aspects of sourcing product during these challenging times, food
prep/production, and distribution community-wide.
Bridge View Center's Administrative team is providing support by fielding calls, handling of all food billing and accounting work, and managing public relations to build awareness of the program.
Bridge View Center's Operations team are also assisting in cleaning, sanitizing, and disinfecting all work and food prep areas twice daily to ensure that equipment, materials, and the environment are maintained in a sanitary condition.
As you can see, this is a complete team-wide effort, and we are proud to be able to support such a program, and to effectively impact our community in such a visible way. Our relationships with local media have paid off as well, covering this program and helping us get the word out to parents who are having trouble feeding their children in this difficult time, whether it being for financial reasons, or simply having to fulfill their employment duties. For
example: click here.
Rich Thompson is Sales & Marketing Manager for the Bridge View Center.