By R.V. Baugus
We have noted before in IAVM News as well as a Venue Professional magazine article by Eden Park's Nick Sautner about how Australia has opened and welcomed attendance to sporting events. Now, Suncorp Stadium is Brisbane drew an audience of 49,155 for a State of Origin rugby finals match between New South Wales and Queensland, in the process earning the largest attendance in any world sport since the outbreak of the COVID-19 pandemic in March.
The attendance fell slightly short of Suncorp Stadium's 52,500 capacity but was enough to eclipse the 46,000 figure that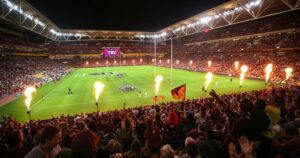 was posted for last month's Bledisloe Cup rugby union match between New Zealand and Australia at Auckland's Eden Park.
The first two games were played at Adelaide Oval and Sydney's ANZ Stadium, which both operated at reduced capacities – 24,218 and 36,212, respectively – in line with COVID-19 restrictions. The third and final contest was won by Queensland, 2014.
The attendance mark was made possible when Queensland Premier Annastacia Palaszczuk announced recently that open-air stadiums with a COVID Safe Plan would be able to operate at full capacity, setting the stage for Suncorp Stadium to welcome almost 50,000 fans for the State of Origin decider.
Precautions were still taken with the grounds to ensure the safety of all fans. Masks were worn unless seated and fans remains within an allocated zone shown on the ticket. Cashless payments only were also in use for food, beverages and merchandise.
The announcement by the Premier will allow all ticketed seated venues across Queensland to raise their capacity from 50 per cent to 100 per cent. Outdoor events can increase attendance from 1,000 to 1,500 with a COVID Safe Event Checklist, with larger events requiring a COVID Safe Plan.