By Julia Milstead
Butterflies are swarming at the Raleigh Convention Center! October 15 marked the completion of the site-specific installation of Leah Sobsey's "Swarm" in the venue's Main Lobby. The work, consisting of 300 cyanotype butterflies, has found its newest home in Downtown Raleigh at the Raleigh Convention Center (RCC) after being shown in hotels and galleries throughout the nation.
The center's 450,000 annual visitors will now be greeted by a cascade of hundreds of blue and white butterflies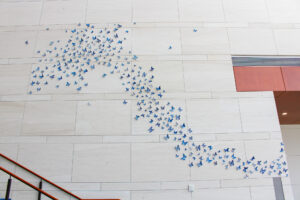 traveling along the Center's Grand Staircase. Raleigh Arts, with the support of the RCC, has accessioned the new addition into the Raleigh Municipal Art Collection. Dotting the massive 9,000-square-foot lobby, the swarm of blue butterflies adds a pop of color, delicately contrasting the Portuguese limestone-clad walls.
"The Raleigh Convention Center has a rich history of spotlighting artists from the region and state. That legacy — paired with its large-scale impact and nature-based subject matter — made 'Swarm' a perfect fit for our space," said Kerry Painter, CVE, General Manager/Director of the LEED Silver-certified Raleigh Convention Center.
To produce the piece, Sobsey scanned specimens in the U.S National Park's insect collections and created cyanotypes from them, using a printing process that dates back to the 19th century and was traditionally used to create blueprints. A photographer and professor at UNC Greensboro, Sobsey's work can be found in public and private collections across the U.S., including art museums and galleries from North Carolina to California.
The Center's use of natural elements and reminders of the natural world are not limited to butterflies – the Center also has two live honeybee colonies on its properties. Honeybees are critical to the pollination of plants, gardens, and crops, and play a vital role in our planet's ability to grow food. With a 40% decline of the managed bee population in the U.S., two hives were installed at the convention center and, its sister venue, the Duke Energy Center for the Performing Arts to demonstrate the venues' commitment to community and sustainability.
Julia Milstead is public information officer for the City of Raleigh.