From neworleanssaints.com
The New Orleans Saints unveiled the latest updates to the Envision the Future transformation of the Caesars Superdome. The five-year project is a collaborative effort between the Louisiana Stadium & Exposition District (LSED), the New Orleans Saints and the State of Louisiana, and the project continues to near its 2024 scheduled completion date. As the 2024 finish line rapidly approaches, this colossal project progresses with a team of architects, contractors, designers, and construction workers working around-the-clock to transform the fan experience and functionality of one of the most iconic venues in the world. Saints season ticket holders and their guests will be the first to experience the remarkable evolution of Caesars Superdome, while the building's global unveil will be completed in advance of the 2025 Super Bowl in New Orleans, which will also mark the stadium's 50th anniversary.
The Caesars Superdome Club Rooms and Premium Areas have and will continue to be some of the most popular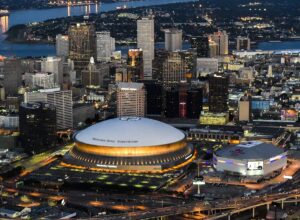 sectors of season ticket holders. Through the Envision the Future campaign the Northeast and Northwest loge clubs no longer exist and have been replaced with an East loge club named the Caesars Legends Club. This dedicated club and suite area provides access to Gate C with access to dedicated escalators and new elevators which will provide fans with a faster entry to the club and premium areas. The upgrades at the Caesars Club include much larger areas that stretch the length of the sideline with improved seating and amenities in state-of-the-art surroundings that enhance the premium ticket holder experiences.
The VIP loge level will also feature an upgraded concourse experience connecting to the new Caesars Club as well as new premium bars, markets, and concessions. New clean, comfortable, and modern restroom and family rooms will adjoin the club on both sides to alleviate wait times for the rest room facilities at the busiest times of gamedays.