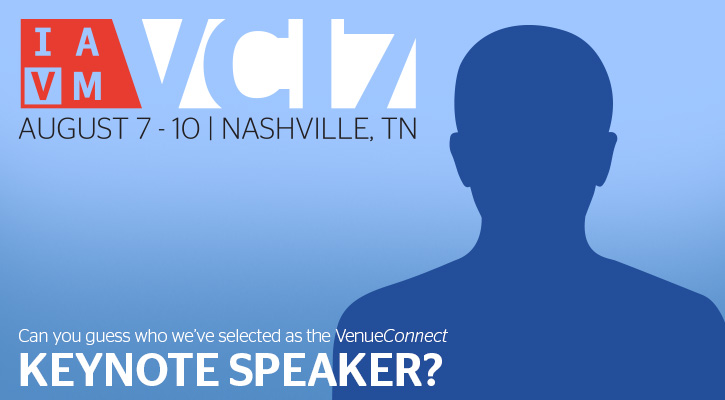 We're giving you a chance to guess who the VenueConnect 2017 Keynote Speaker is before we make the big reveal on Friday, March 31. Each day leading up to the reveal, we will give you one clue to help you identify the speaker, but here's the catch: you must be registered for VenueConnect to be eligible to win, and so you can receive the final two clues. Our first two clues will be announced on our Facebook and Twitter pages, so be sure to follow us on social media to stay in the loop. The final two clues will be sent by email to those who have already registered for VenueConnect, so REGISTER NOW and take advantage of the early bird rate.
The first two people to correctly guess who the keynote speaker is will receive the grand prize: a meet and greet with said speaker. The next 3 correct guesses will receive a Nashville Swag Bag upon arrival at VenueConnect. Click here to learn more about VenueConnect, or…

By clicking the "GUESS NOW" button, you are agreeing to the rules & regulations that follow.
Rules & Regulations
You may only guess once per day (maximum of 5 guesses) from Monday, March 27 until Friday, March 31. All guesses on Friday must be submitted by 12:00 PM CT in order to be counted.
The winners and the keynote speaker will be announced on Friday, March 31 at 3:00 PM CT.
Any guesses submitted by those who are not registered for VenueConnect will not be counted.
Anyone involved in the selection of the keynote speaker is not allowed to guess.
In the spirit of fair contest, if you think you know who the keynote is, please keep this information to yourself in order to allow others the same opportunity.