By SportsBusiness.com
Washington DC's Capital One Arena is to open a new premium guest experience lounge featuring a food offering from renowned chef and restaurateur José Andrés.
The Signature Club & Lounge, set to debut in the autumn, offers early entry and exclusive access to the space ahead of Washington Capitals and Washington Wizards games. Membership also carries the privilege of presale priority for the hundreds of concerts and events at Capital One Arena.
The nearly 5,000 sq ft space, located at the corner of 7th Street and Gallery Place, has been designed by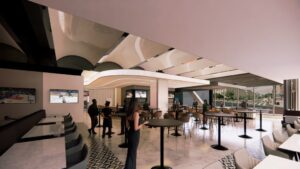 global architecture, design, and planning firm Gensler to be the new arrival point to the arena for Signature Club members and guests.
Among the features across the lounge is the food and beverage design developed by José Andrés Group, the company led by the established Spanish-American chef who has partnered with Aramark Sports + Entertainment, the venue's hospitality provider.
"We invite fans to become members of this exclusive club to enjoy a true VIP experience with first-class amenities for games, concerts, and events," said Jim Van Stone, president of business operations at Monumental Sports & Entertainment (MSE).
"We are excited to offer another high-value, high-quality experience for fans to enjoy time with family, friends, and colleagues and we expect it will drive businesses in search of a go-to destination in downtown DC to entertain clients."
The new Signature Club & Lounge will have a limited number of memberships to maintain a premium experience for guests. Members may take advantage of a dedicated point-of-entry to the Signature Club to enjoy its hospitality and then travel directly across the concourse to the Signature Cocktail Lounge within a redesigned mega-suite before heading to their seats. Members' seat locations have been hand-selected to be closest to center court/ice for 15 Wizards and 15 Capitals games in the first year, elevating to 20 games per team each season after. Members will also experience presale preference for any concert or event at the arena, with seats located with exceptional views of the artists and stage.
The lounge benefits from extensive glazing and will feature top-of-the-line finishes, color-changing lights and ample gathering space.
Sam Bakhshandehpour, president of José Andrés Group, said: "We are thrilled to announce this exciting partnership between José Andrés Group and Monumental Sports & Entertainment. This collaboration represents a powerful union of culinary excellence and sports and entertainment innovation.
"Together, we aim to create unforgettable experiences that will delight and inspire our guests, fans, and the entire community."
The Signature Club & Lounge joins a collection of premiums spaces in Capital One Arena including the Etihad Airways Lounge, Caesars Sportsbook Lounge, Ultra Club, and Players Club for all sporting events, and the Michelob Ultra Courtside Lounge and Courtside Premium Lofts available for Wizards games.