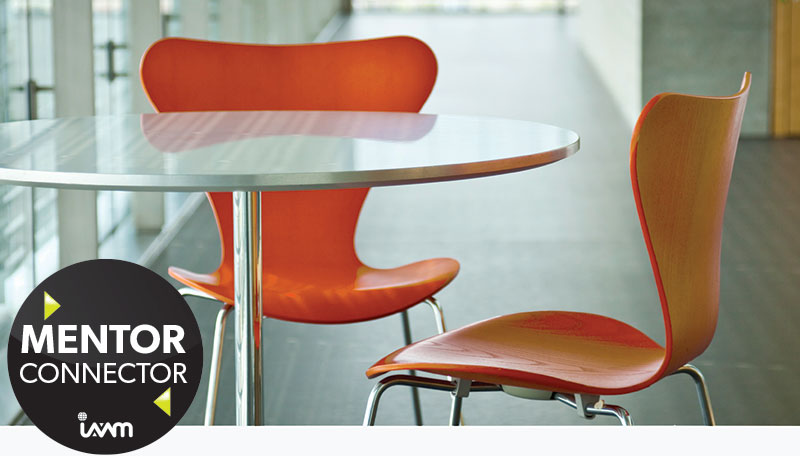 After a big accomplishment, appreciation and adulation are not only well received, they are well deserved. From December 2014 to November 2015, experienced venue professionals were matched with individuals seeking to enhance their industry knowledge. Each pair then created a unique program tailored to their own goals, paces, and styles.
As a mentee, eight people entered into a year-long commitment to be open, vulnerable, and willing to listen in order to cultivate themselves personally and professionally. As a mentor, eight people agreed to share insights, encourage exploration, foster growth, and make time in busy schedules. To bring the team together, four industry veterans nurtured, coached, and guided these eight partnerships.  While we know it was fun, we know it may not have been easy, so these 20 people, IAVM and the Mentor Connector Committee want to say, "Thank you!"
It's time to celebrate! Twenty people now have a deeper, more meaningful relationship with one another than they did a year ago. One of the most valuable aspects of IAVM membership is the access to a vast network of experienced venue professionals and dedicated Allied members. The Mentor Connector Program provides a crucial point of connection to people who may not otherwise meet. Twenty people who started out as strangers, or perhaps at best acquaintances, now have a stronger, life-long relationship with others who are passionate about our industry. To those people, we want to say, "Congratulations!"
The Mentor Connector Committee proudly recognizes the following fall 2014-2015 participants who successfully completed their programs:
Mentee
Mentor
Coach
Philip Costa / Stephen C. O'Connell Center University of Florida
Kevin Spence, CFE / Hampton Coliseum
Frank Bradshaw, CFE, CMP  / Val A. Browning Center for the Performing Arts
Emily Herr / Ralph Wilson Stadium – Buffalo Bills
Clifford "Rip" Rippetoe, CFE / Kentucky Expo Center & Kentucky International Convention Center
Keith Baulk, CFE
 
 
 
Andrew Shreve / Greater Richmond Convention Center
Kelly A. Shea /
FELD Entertainment
Frank Bradshaw, CFE, CMP / Val A. Browning Center for the Performing Arts
 
 
 
Angel Mitchell
Jim Wynkoop, CFE / Chaifetz Arena
Jody Lake, CFE / Dee Events Center Weber State University
 
 
 
Zach Rutkowski / Ralph Wilson Stadium – Buffalo Bills
Bob Nocek / Carolina Theatre of Durham Inc.
Keith Baulk, CFE
 
 
 
Shaun Davis /

South Towne Exposition Center

Daniel Huerta / Fair Park Dallas
Jody Lake, CFE / Dee Events Center Weber State University
 
 
 
Kathryn Carlson / American Airlines Center
Cheryl Swanson, CFE / Alerus Center
Carol Moore, CFE / Newnan Centre
 
 
 
Shellie Hatcher / EverBank Field – Jacksonville Jaguars
Joe Durr / Portland'5 Centers for the Arts
Carol Moore, CFE / Newnan Centre
 
 
 
Successful participants also qualified for Certified Facilities Executive (CFE), Certified Venue Professional (CVP), and continuing education points.
If you would like to become a Mentor Connector Committee Member and help grow this amazing program, the Call for Volunteers is now posted on www.iavm.org/volunteer-opportunities. The deadline to apply is February 26.
If you would like to learn more about becoming a mentor, mentee, or coach to further your professional development, an informational webinar will be hosted on Wednesday, March 23, 2016, at 2 p.m. (CST). Go to www.iavm.org/webinars for details and a link to register.
We accept applications all throughout the year for any IAVM members who are interested in participating in the Mentor Connector Program. There are two cycles per year – one starting in April and one starting in October. The deadline to apply for the April 2016 program will be Friday, March 25, 2016. The application process is simple and can be completed online at www.iavm.org/mentor.