By R.V. Baugus
The cashless beat goes on.
CenturyLink Field, home of the NFL Seattle Seahawks and Major League Soccer Seattle Sounders, has announced plans to transition to a cashless model for sales transactions at the venue.
All concessions, retail and on-site parking will now only accept credit, debit and prepaid cards. CenturyLink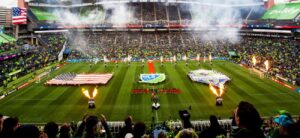 Field said the move has been taken after several other stadia and arenas successfully transitioned to a cashless model.
In a statement, the venue said that the move would allow for a more efficient sales process by removing cash handling duties and speeding up transaction times. The cashless model will also apply to the CenturyLink Field Event Center and WAMU Theater.
For visitors who do not have debit or credit cards, or prefer to use cash, 10 cash-to-card ReadySTATION kiosks will be set up around the stadium and event centre. The kiosks will be free to use and will allow fans to convert cash onto a prepaid card, which can be used anywhere inside or outside the stadium.
David Young, general manager of CenturyLink Field and senior vice president of business operations for the Seahawks, said: "We are continually looking at new technology and innovative ways we can improve our customer experience, and moving to a cashless operations model will reduce the length of time our guests spend standing in line.
"Depending on the event, credit or debit cards are already being used for approximately 75 per cent of all concessions transactions and 90 per cent for retail purchases, so we are confident this will be a seamless transition for our guests and as a result they will experience a positive improvement in wait times."
The trend continues to pick up steam at venues across the country and across the world and is even moving into the retail segment. A recent visit to grab some warm cookies at Tiff's Treats came with a notice on the counter that the sweet-tooth factory no longer accepts cash transactions.