By Hilarie Carpenter, CTA
The Grand Rapids-Kent County Convention/Arena Authority (CAA) recently announced that Charlie Secchia will step down from the board after nearly 10 years of service. Secchia was appointed to the seven-member board that oversees DeVos Place, DeVos Performance Hall and Van Andel Arena on February 22, 2012.
"It has been an honor to serve on the CAA board with Charlie Secchia," said CAA Chairman Rick Winn. "He is a tireless advocate for economic growth and his contributions to the success of the venues will have a long-lasting impact. I can't thank Charlie enough for the unwavering support he has provided to the CAA and the facilities during his service."
Secchia has continually recognized the importance of investing in the facilities to remain competitive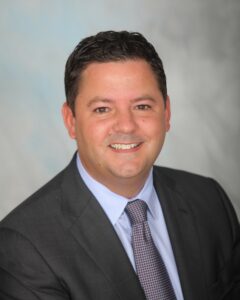 within the entertainment and convention industry and encouraged the implementation of numerous capital improvement projects. His support and guidance have been a driving force behind the success of the venues. Throughout his term, the arena, theater and convention center have experienced growth, upgrades and improvements.
In 2020, the CAA partnered with Downtown Grand Rapids, Inc. on a renovated Van Andel Arena plaza with public seating areas, trees and planters, and enhancements to patron and pedestrian safety. Backstage renovations at the Arena were also completed that year, including updates to the locker rooms and dressing rooms and the creation of the West Lounge, a modern banquet space. Additional upgrades to Van Andel Arena throughout Secchia's tenure include new upper bowl seats, installation of an LED videoboard, an upgraded electronic marquee, enhanced security systems, and new security screening equipment.
During Charlie's term with the CAA, major upgrades were also made to DeVos Performance Hall to accommodate major touring productions such as Hamilton and Disney's The Lion King. Most recently, the original fly rail and theatrical rigging system was replaced, new restrooms were constructed and existing restrooms were remodeled. Additionally, a new sound system was installed and the stage was upgraded to allow for larger productions.
Van Andel Arena, DeVos Place and DeVos Performance Hall experienced their best ever combined fiscal performance, including a record 42 concerts at Van Andel Arena, in Fiscal Year 2019, the last full fiscal year leading up to the COVID-19 pandemic. Events at the facilities that year attracted 1.5 million visitors to Grand Rapids, helping to support restaurants, hotels and other establishments throughout West Michigan. Before the pandemic forced their closures, Fiscal Year 2020 was on course to be the most successful year in the venues' history.
As the venues navigate through the COVID-19 pandemic, Secchia and the CAA have worked closely with venue manager ASM Global to implement safety measures aligned with ASM Global's VenueShield environmental hygiene program. Enhancements to the facilities include upgraded air purification with bipolar ionization equipment, installation of touchless fixtures and equipment to facilitate contactless transactions, cleaning and sanitation equipment, social distancing barriers, and personal protective equipment.
"I'm grateful for the opportunity to be part of the CAA and to contribute to these world-class facilities," Secchia said. "I'm honored to have played a role in bringing top level entertainment and conventions to Grand Rapids. I've enjoyed working with the other board members and the ASM Global management team and have seen firsthand the positive impact of the venues on the West Michigan community."
Hilarie Carpenter, CTA, is Director of Marketing for ASM Global – Van Andel Arena, DeVos Place & DeVos Performance Hall.