The Charlotte Regional Visitors Authority (CRVA) announced a significant increase in its Wi-Fi capabilities at the Charlotte Convention Center. The update is part one of a two-phase investment to make extensive upgrades to the venue's interconnectivity. It's designed to keep the venue competitive and attractive to meeting planners. As part of the first phase, the new Wi-Fi bandwidth expands complimentary access previously available only in public areas to also include meeting rooms and ballrooms in the facility. In partnership with Smart City Networks Charlotte has also tripled the available upload download speed in all of these areas.
"The CRVA is committed to creating a convention experience that is best in class at the Charlotte Convention Center," said CRVA CEO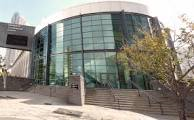 Tom Murray. "Fast and readily available digital access is something that both planners and attendees are looking for, and we're confident our venue meets those needs. Our team will continue to actively evaluate the next generation of digital needs to provide the best service for those who visit us here in Charlotte."
Enhanced connectivity is now available across the center's flexible configurations of 126,500 square feet of meeting space, which includes 37 meeting rooms, the 35,000-square-foot Richardson Ballroom and the 40,000-square-foot Crown Ballroom for a total of 41 breakout rooms. Additionally, the coverage extends to pre-function space totaling 90,800 square feet surrounding the Richardson and Crown Ballrooms, 43,000 square feet of concourse space for registration or other event components, and the 4,000 square feet of space in the Delish Food Court, which features Einstein Bros. Bagels, Buon Cibo, Bojangles' Famous Chicken 'n Biscuits and Starbucks.
The enhanced Wi-Fi coverage enables attendees to have access to their digital needs, ranging from checking social media channels or email to exploring websites that may be relevant to the events or programs they are experiencing.
While still in planning, phase two of the plan will address updating existing fiber, increasing upload and download speed, and developing a high-density (HD) network to accommodate a larger number of users simultaneously. Other recent technology upgrades at the Charlotte Convention Center have included new operable walls in the exhibit halls and new LED lighting in the exhibit halls, which yields a reduction in wattage per fixture from 1000 W to 471 W, resulting in an energy usage reduction of 53 percent.