We are thrilled to announce that the fine people at The Expo Group have named Christy Jacobs, Director of Marketplace Sales at IAVM, 2013 Show Manager of the Year! Christy works tirelessly to provide the best marketplace possible for the IAVM community, whether through her execution of the trade show and other marketplace programs or through her investment and care toward each and every client relationship.
Christy's most recent success was IAVM's new pilot project, DirectConnect. The soft-launched appointment program connected qualified buyers with participating exhibitors in targeted meetings as a supplement to the conference trade show. Implementing this new program took months of planning and immense leadership from Christy, and the unanimous responses from our early adopters confirmed that she had not only delivered a good program, but that she had crafted a new experience that resonated with the unique needs and dynamics of the evolving IAVM marketplace.
Christopher Kucsma, National Service Sales Manager at Hussey Seating and an Allied member, had warm praise for Christy's work.
"From an allied perspective, I see Christy continuously bridging the gap and working to ensure that the meetings and trade shows have that unique synergy for the entire membership," he said. "Christy's way of doing things is extremely valuable in today's world where you have to get the most value from, every dollar spent."
Christy's success at IAVM is a reflection of her investment in understanding and knowing our community of members. I work 10 feet from her, and I hear the phone calls throughout the day (all of them). Christy knows our Allied members—knows their goals, who they need to meet, what they have in production for the coming year, and most importantly, how to help them. She is an incredible member of our team and a true advocate for IAVM members.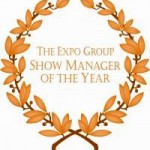 Congratulations Christy on an award-winning 2013!
Now, on to our heightened expectations for 2014. We invaded Christy's office yesterday and asked for a little glimpse into what she has brewing for the VenueConnect show in Portland.
"I love developing new opportunities and finding innovative ways to keep attendees engaged with exhibitors—both on and off the trade show floor," she said. "I'm considering a few new additions to the Portland experience including: expanded educational sessions that enhance the trade show, bringing DirectConnect appointments into exhibitor booths before show hours, and possibly engaging the craft brewers from the Oregon Brewers Festival (happening while we are there!) as special guests during the show. Many of our exhibitors have already reserved booth space for Portland, which gives me a great sense of the range and quality of exhibitors we will have as we begin preparing our next show."
On behalf of the staff tasked with delivering on your promises, we look forward to your continued success and are proud to work with you here at IAVM!
(Image: Adrienne Battistella/Orange Photography)