From PR Newswire
The Las Vegas Raiders and Allegiant Stadium have named CLEAR an Official Fan Experience and the Official Secure Identity Partner. These designations reflect a new innovation partnership between CLEAR, the Las Vegas Raiders, and Allegiant Stadium.
CLEAR's mission is to create frictionless experiences – transforming the way people live, work and travel.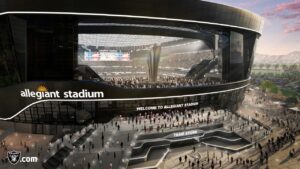 Over the next three years, CLEAR, the Raiders, and Allegiant Stadium plan to develop and roll out a series of integrations to heighten the fan experience. Current CLEAR-powered experiences at Allegiant Stadium include CLEAR entry lanes and advanced age verification for in-seat mobile ordering. Fans can download the free CLEAR app, sign up, and enter through the designated CLEAR entrance at Ford North Entry Lanes 49 and 50 for Raiders' home games and select concerts and events. Continuing the age verification deployment from last season, fans seated in the Modelo Cantina Club and Twitch Lounge can verify their age with CLEAR from their seat while placing a mobile order.
"The Las Vegas Raiders and Allegiant Stadium are at the leading edge of meeting sports fan expectations. CLEAR is proud that our platform is powering a new generation of these enhanced fan experiences. From expedited stadium entry with our CLEAR lanes, to advanced age-verification technology for in-seat mobile orders, we are creating the best-in-class game day experience for Raider fans and visitors to Allegiant Stadium," said CLEAR CEO Caryn Seidman-Becker.
"We welcome CLEAR as an Official Fan Experience and the Secure Identity Partner of the Las Vegas Raiders and Allegiant Stadium," said Raiders Vice President of Corporate Partnerships Christian Howard. "Last year, when the Raiders became the first team in the NFL to announce a vaccine/no mask policy, we implemented CLEAR's Health Pass technology to facilitate proof of COVID-19 vaccination. We are pleased to now offer additional CLEAR-powered experiences to augment the Allegiant Stadium experience for our fans and guests."