The International Association of Venue Managers (IAVM) is pleased to announce the nomination of Clifford "Rip" Rippetoe, CVE, for Second Vice Chair of the IAVM Board of Directors. Rippetoe will serve a four-year term, taking on the Chairman position in 2020-2021.
Rippetoe currently serves as President and CEO of the San Diego Convention Center Corporation (SDCCC). He has a long and successful career in venue management and operations, working for both the not-for-profit and profit sectors. Previous to his role in San Diego, he was President and CEO of the Kentucky State Fair Board Venues.
"The nomination of Rip Rippetoe, CVE, for the role of 2nd Vice Chair demonstrates the thoughtful and excellent work of the Board's Leadership Development Committee to identify a candidate who is a trusted member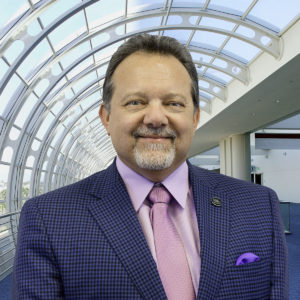 volunteer, proven leader, and skilled venue professional for senior leadership," stated Doug Booher, CVE, IAVM Board of Directors Chair. "We look forward to welcoming Rip to the team!"
Rippetoe has been a member of IAVM since 1988. Previously to his tenure in the Convention Center Sector as a Professional Member, he spent over a decade as an Allied Member working for a convention contractor and as a consultant. Prior to that, he spent several years in the Performing Arts Sector. Rippetoe currently serves on three IAVM committees, as well as a mentor in the IAVM Mentor Connector Program.
"One of the benefits of reporting to the Board and its' Executive Committee is that IAVM has quality leaders in the officer positions that care about our industry and IAVM's members," said Brad Mayne, CVE, IAVM President and CEO. "Over the years, Rip has been a great contributor to leadership for IAVM. His knowledge and experience as a successful venue manager in multiple sectors and diverse communities in his career make him uniquely qualified to fill the position of IAVM 2nd Vice Chair."
Rippetoe serves locally as a Board Member for the Downtown San Diego Partnership and the Economic Development Corporation of San Diego, as well as Advisor for the San Diego Hotel/Motel Association and the San Diego Tourism Authority.
SDCCC Board Chair Gil Cabrera stated, ""We are supportive and excited about Rip's nomination, as it recognizes his well-deserved place as a leader in venue management. The San Diego Convention Center is proud to have such a distinguished, capable, globally-engaged, and visionary individual at the helm of our organization."
"It is an incredible honor to be nominated to serve in this position," said Rippetoe. "I am passionate and dedicated to our industry. We all work together in public assembly venue management to convene millions of patrons to an amazing variety of events. I look forward to working with my peers to educate, advocate for, and inspire our professionals, worldwide."
IAVM members will vote electronically in June on Rippetoe's nomination, and if elected, he will take office in July during IAVM's VenueConnect Annual Conference and Trade Show, July 22-25, in Toronto, Canada.