Claude Molinari, general manager of SMG/Cobo Center, announced the completion of a $2 million technology upgrade for Cobo Center. The work includes an upgraded Nortel core switch that distributes the Wi-Fi signal and along with several new Nortel edge switches located throughout the center.
"For the visitors that use our Wi-Fi network, these upgrades will be like moving from a one lane highway to a three lane super-speedway," Molinari said.
System improvements also include upgrading Wi-Fi access points to 802.11ac Aruba APs and increasing the number of APs to 400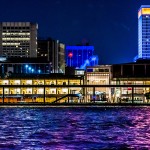 throughout the facility. The network location of APs and configuration will be remapped based on events' anticipated high use of Wi-Fi in specific areas. This pre-planning creates design cost-effective networks that support uninterrupted digital services while minimizing cross-channel interference that can result from excessive and disorganized access points. The organic design smooths out the user's experience and gives them "more on ramps" to the network.
These Wi-Fi upgrades will allow 32,000 simultaneous users on the network. With device/client counts increasing every year for Cobo, the wireless continues to process ever increasing amounts of bandwidth per device/client and the upgrades will assure a fluid user experience. Some Cobo event Wi-Fi traffic examples include:
2016 SEIU: 6,516 unique clients, 1.8TB of data traffic
2016 NAIAS Press Week: 14,640 unique clients, 3.06TB of data traffic
2015 NAIAS Press Week: 9000 unique clients, 1.3TB of data traffic
Discovery during pre-event planning for a show in Cobo Center may reveal estimated high usage, in which case, the Technology Services department is prepared to add more APs to smooth out the user's experience and allow for a greater number of guests and their wireless devices to access the Internet at ever-increasing speeds. Visitor use of WiFi service has always been free throughout Cobo Center.
To create a more flexible WiFi network, the ClearPass Access Management System was installed to create an integrated platform, allow coherence of private networks and create a WiFi splash page for the facility-wide "CoboFree" WiFi network, that will require users to click through a splash page designed to highlight sponsors or include advertisers, thus generating event revenue.