Coliseum – a top name in international stadium conferences – is coming to Detroit, Michigan with over 30 top international names in the sports venues business as speakers at the Coliseum Summit US 2018 on May 9-10, 2018.
"Coliseum is excited to be back in the sophisticated stadium business market of the USA," said Michael Rennschmied, the CEO of MJR Group, the organizers of the event. "The conference program in the US is geared to meet the local demands of the stadium and arena business in the Americas and therefore completely different from the ones in the Middle East or Europe for example," he added.
Some of the prominent names from the distinguished array of speakers include Tim Larkin (2026 United Bid Committee, US), Jim Renne (Rossetti, US), César O. Esparza (Monterrey Int. Stadium, Mexico), Bryan R. Sperber (ISM Raceway, US), David Harris (Optus Stadium, Australia), David Campbell (Geiger Engineers, US), Mike Lorenc (Google, US), Jim Willits (Chicago White Sox, US), Carlos Perez (LaLiga, Spain), Robert Jordan (Van Wagner Sports & Entmt., US), Jim Darrow (Detroit Tigers, US), Chris Moore (Meyer Sound, US), Brendan Russell (Tampa Bay Lightning, US), Tony Raubolt (KLA Laboratories, Inc., US), Michael Lussier (SHEERFILL, US), Brad Mayne (IAVM, US), Aran Rush (Sacramento Kings, US), Philipp Lehnert (Vector Foiltec, Germany), Darryl Dunn (Rose Bowl Operating Company, US), Ryan Gedney (HOK, US), Mike Cerha (Ottawa Sports and Entmt. Group, Canada), Scott Meyers (24/7 Software, US), Darren F. Johnson (Detroit Lions, US), Jared Kozinn (Detroit Lions, US), Truscott Miller (Miami Marlins, US), Steve Burgess (Series Seating, US), Gregory Six (AS Monaco, France), Alex Versen (Uber, US), Scott Kachelek (Philips, US), Rick Brenner (Michigan Int. Speedway, US), and Judith Grant Long (University of Michigan, US).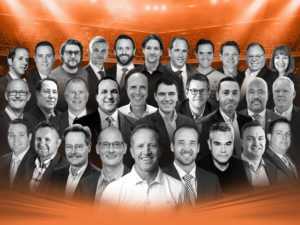 The speakers will share their unique case studies and experiences to throw light on the myriad of challenges faced by the sports venue sector and also deliberate upon the possible solutions.
Nearly 150 venue specialists have already registered to participate at the summit so far. "The delegates as well as speakers are from very well known clubs and venues and represent a range of new and under-renovation stadium projects," Rennschmied said.
Coliseum summit offers a unique platform for experts from the stadium and sports venue business to come under a single roof to discuss the future of the sector. The conference is formatted to highlight 11 different segments of the stadium business, namely: venue design, construction, business, technology, education, green venues, operations, security, venue VIP, venue experience and destination.
Beginning this year, the conference has added two additional but crucial segments of broadcast strategy and brand development.
"No other conference has such a variety of topics covered," Rennschmied said.
The sessions at Coliseum Summit US would highlight experiences and stadium projects in the US as well as from other regions of the world including Australia and China.
Participating delegates will also get unique 'behind the scene' experiences through two venue tours that would include the Little Caesars Arena Tour on May 8, a day ahead of the start of the summit; and also Ford Field Tour on May 9.
Conceived and executed by the MJR Group, Coliseum is a global series of stadium and arena business conferences, a sports venue news online-platform and an international publication dedicated to the various challenges of designing, constructing and operating of sports venues all around the world. It is the only global sports venues business summit with 5 dedicated stadium and arena conferences every year in 5 key regions in the world: Europe, US, Asia-Pacific, Middle East and Latam.
For more information on Coliseum or the Global Stadium & Arena Business Conference, please visit http://www.coliseum-online.com/.