Opening its doors for the first time on February 1, 2012, College Park Center (CPC) marked its 10th anniversary in February. In the past 10 years, the 7,000 seat multi-purpose arena has hosted more than 700 events, ranging from collegiate and professional athletics to national concert tours, world-renowned speakers, boxing, wrestling, and conventions, and has seen over 125,000 graduates walk across the stage.
"It's hard to believe we're already celebrating ten years," says Jeff Davis, executive director. "It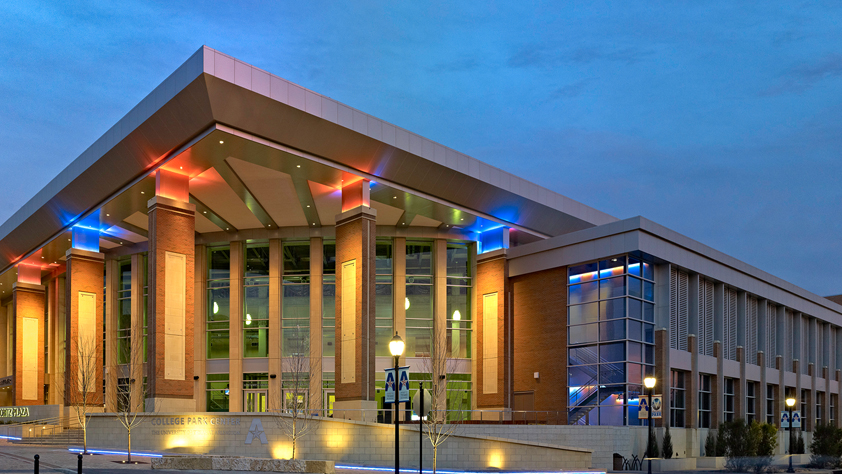 doesn't seem that long ago we were opening the doors to the arena. None of our opening team could have imagined the successes that awaited – the numerous events and adding a professional sports team, the Dallas Wings. I can only begin to guess at what the next ten years might hold for College Park Center."
The UT Arlington Men's and Women's Basketball games on February 5 and 6 featured special celebrations in
recognition of CPC's 10 years on the UT Arlington campus. The party isn't stopping there, however. CPC will be celebrating throughout 2022, bringing a memorable year of programming, recurring segments showing behind-the-scenes looks at events and highlights of notable dates in the arena's history, as well as offering limited edition giveaways through social media.
Although College Park Center has not been immune to the complications that COVID-19 has brought to the public assembly venue industry over the past two years, events are steadily coming back to the calendar. And with various improvements made since 2020; GBAC Star Certification, Sensory Inclusive Certification and all new LED sports lighting, the arena is more prepared than ever to deliver, safe, inclusive, and memorable events for all.
To watch a video celebrating the 10 years, click here.