The Coppell Arts Center will be hosting a public topping out event on the construction site located in Old Town Coppell on Saturday, August 10 at 9am. The steel signing ceremony will give residents their first glimpse of the new entertainment and cultural venue slotted to open in May of 2020.
The event will first include a private reception for local dignitaries, resident art group members, and Coppell-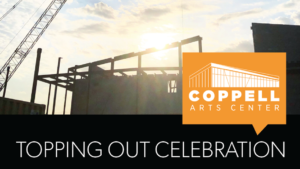 based business leaders who have worked closely on the project. The public will then be able to enter the construction site and offered the opportunity to sign their name on one of the last pieces of steel to be installed. The ceremony gives individuals a rare opportunity to leave a lasting mark on the new Coppell Arts Center.
"Topping out ceremonies are typically attended by a small group of key stakeholders," said Alex Hargis, Managing Director for the Coppell Arts Center. "But for this venue, we truly feel every Coppell citizen is a stakeholder who has played a part in making this dream a reality, which is why we wanted to extend the invitation to the entire community."
The event will take place at 505 Travis Street directly across from the Coppell Farmers Market and will include live music and presentations from the Coppell Arts Council and the Center's design team.
"This will be a proud day to remember," said Pete Wilson, President of the Coppell Arts Council. "Many have worked hard to get this new home for Coppell artists built, and we look forward to signing the steel and feeling we have accomplished something spectacular."