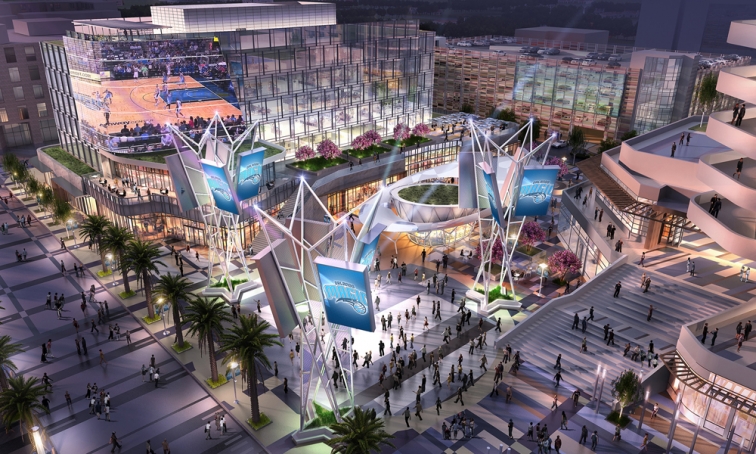 The Orlando City Council on Monday unanimously approved SED Development LLC to construct a complex next to the Amway Center. The mixed-used venue will feature a corporate headquarters for the NBA's Orlando Magic, a hotel, a conference center, and residential and retail facilities.
"Like with the Amway Center, this has been several years of planning and working with the city to find the right avenue to add another great piece that will add to the core of downtown," said Orlando Magic CEO Alex Martins on NBA.com. "So it's incredibly exciting to get to the approval stage. Now, the real work begins in planning for construction. It's going to be a long project and from start to finish we're probably looking at five-to-six years. But we're very excited to get started."
RTKL—the design firm responsible for places such as L.A. Live, the Kansas City Power and Light District, and Berlin Live—plan to make the complex "uniquely Orlando," suggesting that it will host a variety of musical, cultural, and community events.
"We've been talking for about 10 years now about trying to create a new downtown for Orlando and what these venues can do to create economic development and spur other mixed-use development. Because of the recession, it never happened," Martins said. "So this is the opportunity to get it really started and be the spark. Hopefully, this is just the beginning. Hopefully there will be other developments that pop up and revitalize downtown so that locals want to live and work and play and eat and be entertained."
The Orlando Magic will continue to partner with the Parramore neighborhood. The organization in the past has donated more than 3,500 service hours, built nine reading and learning centers, and two playgrounds.
"It's our neighborhood and it's important to us that we continue to help revitalize it," Martins said of Parramore. "We think this is another step. Hopefully this is a spark for others to invest in that part of downtown. Downtown really stretches from Orange Avenue to the Citrus Bowl. So this is an opportunity to spark the western side of that stretch."
(Image: NBA/Orlando Magic)