Sarah Trahern jumps on a conference call with some IAVM staff along with Convention Center Chair Neil McMullin and Vice Chair Matt Hollander. Trahern, CEO of the Country Music Association (CMA) based in Nashville, has every reason to have a tired voice fresh off the conclusion of a very successful CMA Music Festival that ran from June 8-11 in the city and included artist performances at venues such as the Music City Center, Nissan Stadium, Bridgestone Arena, and Riverfront Park. Instead of weary, the voice is instead cheery.
"Here in Nashville, we have strong relations with all the venues because we just got off of Music Fest where we were at all of our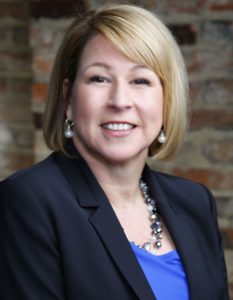 city's major facilities," Trahern said.
Trahern will share some of that experience along with much more when she serves as the keynote speaker for the Convention Center sector meeting on August 9 at 10:45 a.m. during VenueConnect in Nashville. As an association executive, Trahern understands the importance of working with not just her local venues but those around the country wherever the CMA goes.
"I worked with Charles Starks (president and CEO of the Music City Center) for some events they did that went with the National Hockey League All-Star Game in 2016," she said. "I brought my team over and there were a lot of things they did that we then adopted for our Music Fest to make our signage better, for example. We all learn from each other to make events better."
Nashville was the hub of activity in early June not only with Music Fest but also with the NHL Nashville Predators playing in the Stanley Cup Final against the Pittsburgh Penguins.
"We kicked off last week in Nashville with the Music Fest, where we usually average about 80,000 to 90,000 fans per day on a regular year coming into town," Trahern said. "We also had the Stanley Cup playoffs.
"All of us are in event management, whether it's your members or our folks. You go to an event like we did at Music City Center to look at how the hockey folks had laid out their Fan Fair experience with hockey, and you take in best practices. They do well, but frankly there is always a little pride of 'What do we do better? Do we handle physically challenged people better?' We learn some from these folks.
"So we thought that the hockey folks did a particularly good job on how they set lighting levels and how they handled the columns in the convention hall to make it feel warmer and less 'conventiony' and to make it a warmer event space. These were things that we subsequently did to add a bit into our footprint and certainly this year in a larger way at Music Fest."
Trahern noted that convention centers have an advantage of being multi-functional to be able to host just about any type of music programming and before audiences ranging from the thousands to those in the hundreds.
"I think that there are more opportunities for these types of shows in convention centers," she said. "Many have formal arena-style venues attached to the convention center. There are more opportunities for private engagements to fall often at convention centers. Certainly, there is a rich market for private shows and talent to fall more within the convention center realm sometimes than the traditional labels.
"The quality of the infrastructures that are offered today by convention centers is so improved over the last 15 to 20 years. I think if you are an artist that good sound is what is foremost important as your brand is represented. I know that when I go to book an act for something the first question usually has to do with the quality of the sound. The quality of audio offerings that are coming out of different kinds of convention center spaces today is so superior to what it was years ago, so that is really off the table as a concern than it might have been years ago."
In booking, Trahern also understands that competition is keen amongst venues. Still, she has participated in collaboration with other venues and knows that there is still a need for competitors to also work together.
"All venue communities tend to be competitive with each other," she said, "but all of ours also have to work together like last week where we had things happening all over town. I'm very proud of our national music industry and how closely we work with the venue community, but also how the venue community works very proactively with us as well."