Daktronics announced the company will design, manufacture and install a new LED video display and audio upgrades for Northwestern State University (NSU) at Harry Turpin Stadium on campus in Natchitoches, Louisiana. The stadium upgrades will be completed and entertaining Demon fans this fall.
"Northwestern State is pleased to continue its partnership, which originated 20 years ago, with the world's largest and best scoreboard company by installing an updated and greatly enhanced video board at Turpin Stadium," said NSU Director of Athletics Gregory S. Burke. "Our University, football program and fan base deserve this tremendous upgrade. I cannot wait until our home opener on September 16 to see how it will change the game-day experience for Demon fans and students. What excites me most about this project is the infusion of enthusiasm it will create in our football locker room, as well as among our season ticket holders and fan base."
The new end zone display will feature a 15HD pixel layout and measure approximately 17 feet high by 54 feet wide. The large digital canvas will provide excellent image clarity and contrast with wide angle visibility to appeal to every seat in the stadium.
"This new video board will be positive on many levels, most notably the impact it will have on the Demon football program and on NSU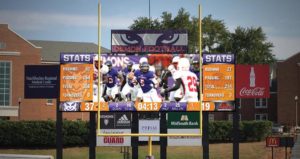 home football Saturdays," Burke said. "Recruiting, image and branding will all benefit from this new look. For our fans, based on the configuration of Turpin Stadium, this new video board will make them feel as if they are sitting in their living rooms watching the Demons."
Capable of variable content zoning, the new LED display can be used to show one large image or it can be divided into multiple windows to show any variety of live video, instant replays, up-to-the-minute statistics, graphics, animations and sponsorship messages.
"We're excited to continue our long-standing partnership with NSU," said Andrew Rice, Daktronics sales representative. "The new video display is going to be an amazing addition to their live event productions on game-day, both for the student-athletes and the fans. It will be great to see the completed project and how it helps the university achieve their goals this year."
Daktronics will also be adding improvements to their audio system, which is integrated with the video and scoring system. The audio upgrades will improve the full-range sound reproduction and help deliver clear and intelligible speech for a powerful audio experience for the fans.