​As the Texas Rangers continue to build Globe Life Field, Daktronics has been asked to provide a complete audiovisual control solution throughout the ballpark. This includes the company's robust Show Control System featuring new Live Clips and Camino technology. Also, all of the new LED displays will be HDR capable to bring the very best contrast and image quality to Rangers fans.
"The new home of the Texas Rangers, Globe Life Field, will have the most comfortable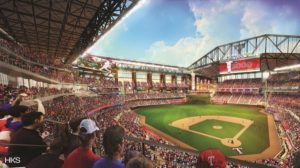 seat in baseball, and with this new technology from Daktronics, that seat just got better," said Texas Rangers Executive Vice President, Ballpark Entertainment Chuck Morgan. "The Daktronics Show Control System, coupled with Live Clips and Camino, gives the Texas Rangers a complete control system and powerful platforms to create a game presentation for Rangers fans that will be second to none in all of baseball. We are looking forward to bringing this game changer in the industry to our fans and enhancing their experience at Globe Life Field."
Daktronics Show Control System brings control software, video processing, data integration and playback hardware into a powerful, but easy-to-use, production solution to entertain fans and generate revenue.
Live Clips, a dual channel multimedia broadcast server designed for live production, plays both clips and graphics. Built on a broadcast hardware platform, it delivers reliable clip playback and attention-grabbing graphics using layers, effects and transitions.
Camino, along with its real-time render engine, brings another level of control to the Rangers production room by allowing for real-time, non-linear, 2D and 3D template editing and server playout. This makes real-time rendering of data-driven graphics a reality for in-game productions at Globe Life Field.
"We are excited about our continued partnership with the Texas Rangers in making Globe Life Field into a destination for Rangers and major league fans, alike," said Tony Kuck, manager for Daktronics control systems. "Our new Live Clips and Camino technology will be key in transforming the Rangers production vision into a fan experience we can all be proud of."