McKinney ISD Stadium and Community Event Center has partnered with Daktronics to manufacture and install the largest high school video display in the country. The north end zone video display measures 54 feet wide by 32 feet tall and features Daktronics patented 13HD pixel layout. For comparison, the display stands 7 feet taller than McKinney North High School and, if set on its side, is just 5 feet shy of McKinney's five-story hospitals.
Fans can view the end zone display as either one large image or divided into multiple zones to show any combination of live video, instant replays, game information and statistics, graphics and animations and sponsorship messages.
"While these systems can start as simple as a basic scoreboard or an entry-level video display with a camera, we are proud of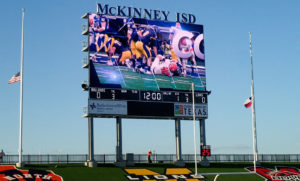 the evolution of high schools like McKinney ISD, Katy ISD and Dallas ISD as they lead the market with our patented technology similar to professional venues like Houston Astros, FC Dallas, Pittsburgh Steelers and many more," said Kyle Sydow, Daktronics High School, Parks & Recreation market manager.
Also a first for high schools, the seating fascia along each sideline and the south end zone showcases 482 feet of ribbon displays with a 15HD pixel layout. These displays bring supplemental game information and graphics to the main display. It also offers additional opportunities for sponsors to be highlighted throughout events.
Complementing the digital displays is a state-of-the-art audio system. McKinney chose the Daktronics Sportsound SS2000HD audio for its high-fidelity sound, reaching everyone in the stadium with consistent volume and clarity, in addition to its ease of operation. Fans experience a dynamic audiovisual experience with Daktronics Sportsound® SS2000 HD audio system. This audio system integrates with the video and scoring to provide full-range sound reproduction while delivering clear and intelligible speech.
Daktronics Show Control System powers the displays. This industry-leading display control software provides a combination of simple operation, expandable production and proven experience. Additionally, world-class video processing, data integration and playback hardware all form a user-friendly production solution for all levels of play.
"In choosing Daktronics, McKinney ISD and schools throughout the country have the reassurance of a long-lasting display built with Daktronics smart sourcing strategies and rigorous reliability testing methods, ensuring an engaging audio-visual system for well into the future," said Sydow.