By Suzanne Flodin and Rachel Hedstrom
Dallas Pride is forty and fabulous! The non-profit organization dedicated to strengthening, supporting and celebrating the LGBTQ+ community returns to Fair Park June 3-4, 2023, with a celebration four decades in the making.
"The many steps we have taken in 40 years are something to celebrate, even as we see more journey ahead," noted Jaron Turnbow, executive director of Dallas Pride. "While we celebrate, we keep working toward a future of equality and equity for the LGBTQ+ community. The way we get there is by linking arms and moving forward in unity. Dallas Pride is committed to producing inclusive events that our community members and our allies — friends and families alike — can come together and enjoy."
Pride weekend kicks off with the Dallas Pride Music Festival on Saturday, June 3, followed by the Dallas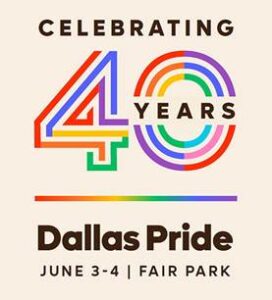 Pride Alan Ross Texas Freedom Parade in Fair Park on Sunday, June 4.
In 1972, just three weeks after the Stonewall riots in New York City, a festive group of hundreds of men and women gathered in Dallas to show their pride. They marched through downtown, waving signs and chanting gay rights slogans before a crowd that grew to about 3,000. There were a few floats, but nothing elaborate; most of the participants walked the route or rode in gaily decorated vehicles. In 1983, the parade was branded the Texas Freedom Parade in commemoration of Judge Jerry L. Buchmeyer's 1982 ruling that first negated the Texas sodomy law (in a decision that was later overturned by the 5th Circuit Court of Appeals). Also in 1983, Dallas Pride was born.
Those humble beginnings helped to galvanize a community that in coming years would celebrate Texas sodomy laws being found unconstitutional and same-sex marriage legal. As the LGBTQ+ community and its number of allies grew – and the families of LGBTQ+ individuals grew, too – Dallas Pride made a historic move in 2019 to Fair Park to a larger footprint that would comfortably accommodate the community's growing numbers, as well as attendees who are differently abled, as well as those of all ages.
Dallas Pride's 40th festivities begin on Saturday, June 3, in Fair Park with the Dallas Pride Music Festival, a family-friendly event featuring a variety of musical and dance performances on both the outdoor main stage and on an indoor community stage. More than 200 vendors will have booths to see and shop at the festival. Family Pride Zone, an area designed for families, will feature several bounce houses, face painting, entertainment for the kids and the Pride Train ride in the Automobile Building at Fair Park. The festival also features Teen Pride, which fosters a safe environment for LGBTQ+ youth ages 13 to 19 and their friends to enjoy live entertainment from artists and DJs, and other age-appropriate activities. Local animal rescue groups will also be on-site for guests to meet a possible new furry family member.
Suzanne Flodin and Rachel Hedstrom are with Gentry Agency.