Just as many IAVM members enter through the doors of World Headquarters and get a sense of how IAVM staff works for them, the favor is often returned when members serve as hosts to provide tours to IAVM staff to show how venues operate.
Staff was fortunate to receive such a tour on March 25 when Dave Brown, American Airlines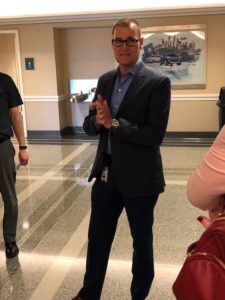 Center/Center Operating Company Chief Operating Officer & General Manager, greeted the team from headquarters to provide a tour of the arena in Dallas that serves as home to the NBA Dallas Mavericks and NHL Dallas Stars.
Brown answered a series of questions as he led a tour that moved from the concourse level to suites to locker rooms and finally to indoor loading docks. Along the way, Brown recounted his own introduction to the venue that opened in 2001 at a cost of $420 million.
"Today, it would clearly cost more than $1 billion to build this," Brown said.
Brown shared his career path working at nearby Reunion Arena as the sparkling American Airlines Center was being built under the auspices of Brad Mayne, CVE, now the IAVM president and CEO.
"I was fortunate to work with Brad for 16 years," Brown said. "It was an interesting time because Brad and the finance team were officing nearby on Stemmons Freeway and I was in the bowels of Reunion Arena. We were scrambling and eventually got everybody under one roof."
Brown shared some strategies for sponsor branding throughout the building, how over the years suites have evolved into smaller spaces, and even how the locker rooms for the hockey and basketball tenants differ.
"The hockey guys are seated at lockers so they all face in to each other," Brown said. "They bleed and sweat together and that arrangement works for them."
A few paces away is the showcase locker room for the Mavericks, complete with all the bells and whistles that owner Mark Cuban employs to give his team first-class treatment, complete with an under water treadmill.
Standing inside one of the arena's signature dining areas, Brown was asked about his own favorite memory at the arena.
"It had to be getting the Eagles to open the building," Brown said. "I was put in charge of finding someone to open the building and kept coming back to the Eagles. They had just gotten back together and I knew they would be the 'wow" act.
"I contacted John Meglen (now co-CEO of Concerts West), who was tight with (band rep) Irving Azoff. They were touring in Europe. I gave John the date and he sent a note to Irving, who sent a fax back that simply said, '$5 million – Irving.'
"I was like, really? It might as well have been a billion. So I sent back an offer and we settled. I said that we could fly them back from Europe, so they cut some of their dates.
"I called (Mavs owner) Mark's (Cuban) aviation guy, who told me the plane was not sea-worthy for a year. I called a contact at American Airlines. They said they didn't have plans sitting around waiting to pick up bands.
"Finally, Irving said he would help, that they would fly commercial, but 'You'll have to (upon which Brown rubs his fingers together to make the money sign)' …"
The afternoon's education session complete, staffers left with a greater appreciation for IAVM members and the role they play at their venues. Call it an afternoon well spent.