Delta Airlines has renewed its long-running partnership with sports and entertainment giant AEG, with the deal including sponsorship of the reimagined Chairman's Club space at Crypto.com Arena in Los Angeles.
Delta has renewed its status as a founding partner of the arena, which serves as the home of the NBA's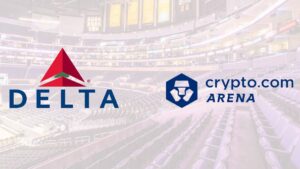 Lakers and Clippers, the NHL's Kings, and the WNBA's Sparks. The company will also continue to serve as the official airline of Crypto.com Arena and the Kings.
The expanded deal also includes naming rights to the Chairman's Club, which is one of the arena's most exclusive hospitality spaces. The space will now be officially known as the Delta Sky360° Club.
The club is located on the event level of the arena and offers select season ticket members and VIP guests new benefits and experiences before, during, and after all publicly ticketed sporting events at the venue as well as selected concerts.
The Delta Sky360° Club offers guests an unlimited bar, upscale food and drink offerings, new seating and fireplaces, valet parking, and a dedicated entrance. As a founding partner of Crypto.com Arena, Delta will continue to benefit from prominent indoor and outdoor signage at the venue including on the center scoreboard during events.
The new agreement was brokered by AEG Global Partnerships and also includes partnership elements at L.A. Live, through which Delta will receive a range of digital signage rights as well as premium exposure during events such as the Grammys, Emmys, and American Music Awards.
Lee Zeidman, president of Crypto.com Arena and L.A. Live, said: "With its numerous first-class amenities, the Delta Sky360° Club represents the new standard in exclusive VIP hospitality at Crypto.com Arena and will bring a one-of-a-kind fan experience to our guests.
"Our long and fruitful partnership with Delta has consistently added value to our arena and continues to help us raise the bar for the millions of fans we entertain each year."
Scott Santoro, vice president of global sales at Delta, said: "Delta and AEG are both focused on elevating the experience for our customers, whether they are cheering on their favorite team or catching a flight to their next destination.
"Delta is proud to be LA's largest premium global carrier and with the support of partners like AEG, we will continue to provide best-in-class offerings to Angelinos and LA sports fans worldwide."
Delta has served as a founding partner of Crypto.com Arena (formerly Staples Center) since 2011. The company is also a founding partner of the 2028 Olympic and Paralympic Games, which will take place in Los Angeles.