When IAVM comes to Chicago for VenueConnect in 2019, there will be a new artistic look to the area.
MPEA and the Chicago Department of Cultural Affairs and Special Events, in partnership with area cultural organizations, announced the City's newest Cultural District adjacent to McCormick Square. The announcement accompanied the unveiling of the newest art installation, "The Bots," with MPEA CEO Lori Healey and Department of Cultural Affairs and Special Events (DCASE) Commissioner Mark Kelly in attendance.
The installation of "The Bots" was designed by New York-based David Weeks Studio in collaboration with Chicago-based Anderson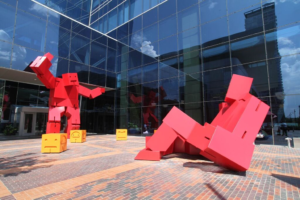 Miller, Ltd., and manufactured at Chicago-based Vector Manufacturing. David Weeks Studio is the designer of the famous Cubebot toy and this installation is the largest "Bot" design to date. The standing Bot is 23 feet tall with a 23-foot wingspan, while the reclining Bot is 16 feet long. The giant installation kicks off the neighborhood's Cultural District, adding to the more than 100 pieces of public art on campus.
"As we continue to enhance the McCormick Square community, MPEA is honored to be part of the new Cultural District. The music, art, and cultural attractions surrounding McCormick Square campus are important to our clients and visitors," Healey said. "Furthermore, 'The Bots' are a wonderful addition to our public art collection, and we can't wait for out-of-town visitors and Chicagoans alike to not only see our newest installation but to experience it as they use this interactive art as a place to sit and enjoy all that McCormick Square has to offer."
"McCormick Square is home to diverse businesses, works of art, events, and much more, and we are thrilled that area cultural organizations are partnering to form the new Cultural District," Kelly said. "The rich culture in this area deserves to be recognized by residents and visitors from around the world."
The new Cultural District will feature more art than just "The Bots." Starting August 15, McCormick Square will be the site of "Rooted In Greatness" a first-of-its-kind video art exhibit. Working with Luma8, chaired by Lou Raizin of Broadway in Chicago, "Rooted in Greatness" celebrates Illinois' Bicentennial with video biographies of notable Illinoisans projected into the trees at the corner of Cermak and Calumet. The installation will run through February 2019.
With a commitment to public art on campus and a long-standing foundation of art and culture in the area, the Cultural District is a new epicenter of arts and culture. Attracting millions of visitors each year, McCormick Square brought $1.6 billion in economic impact in 2017.
"The Bots' will be on permanent display outside of the Marriott Marquis Chicago. For more information on the new installation and the Cultural District, visit mccormicksquarechicago.com