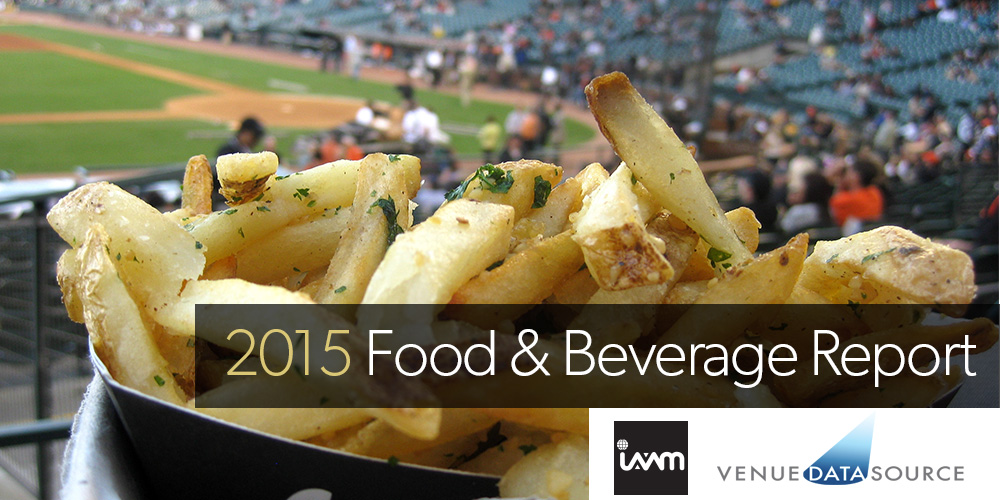 Second only to the event itself, a guest's food and beverage (F&B) experience is the most memorable takeaway from the overall venue experience. Today, venues rely on food and beverage operations to set their venues apart. Our most recent VenueDataSource report compiled responses from 313 venues to get a first-ever look at the current state of venue food and beverage operations and partnerships.
The 2015 Food and Beverage Report is now available to take a look at the trends found and discover how your venue compares. Here's a preview of some of the questions it answers:
When it comes to compensating outside F&B vendors, most arenas, convention centers, and performing arts centers prefer to use a commission based on gross sales. What's the average commission percentage for your venue type?
What's the average term of outside F&B contractual agreements?
What's the true revenue delivered by F&B to the bottom line?
What percentage of venues use in-house staff for their F&B operations?
Which service structure is the most effective for your venue type?
The 2015 Food and Beverage Report has already been provided free of charge to the venue managers who participated in the survey. All members can access it now on the IAVM website at https://www.iavm.org/vds/vds-reports for further analysis of technology and trends in venues. We will also present a webinar that drills deeper into the findings and leading practices on December 11, so save the date.
And speaking of saving—the survey behind one of our most looked-for reports is now open. We are updating our popular Staffing Report for release early next year. More than 100 venues have already responded. If you would like to participate in our survey—and receive a free copy of the Staffing Report before it's publicly released—contact Frank Ingoglia at IAVM, and he'll make sure you receive your survey link.
VenueDataSource – we connect the dots.