Industry veteran Thomas Tingle has joined the DLR Group Sports studio in Kansas City as a Client Leader. He will develop new relationships with professional organizations and collegiate programs across the country and create long-term value for new and existing clients.
Tingle brings 30 years of diverse experience in the sports industry and has been responsible for the development of several high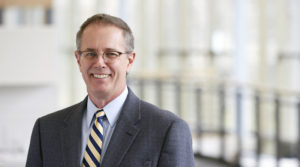 profile sports venues across the U.S. He has an invaluable knowledge of the sports industry that will benefit student-athletes, universities, communities, and the fan bases they serve.
"Tom is an architect who has been a leader in the sports industry for many years and is well known and respected across the country," said DLR Group Global Sports Leader Don Barnum, AIA. "His breadth of experience in design, construction, and development will continue to elevate the sports studio at DLR Group."
Nationally recognized projects Tom has worked on includes the Commonwealth Stadium Renovation at the University of Kentucky, the Mackey Arena Renovation at the University of Purdue, Durham Bulls Athletic Park for the Triple-A Durham Bulls, Auto Zone Park for the Triple-A Memphis Redbirds, Time Warner Arena for the Charlotte Hornets, and Petco Park for the San Diego Padres.
DLR Group is an integrated design firm delivering architecture, engineering, interiors, planning, and building optimization for new construction, renovation, and adaptive reuse.