From Los Angeles Dodgers
Dodger Stadium will be filled with holiday cheer as guests are immersed in the Dodgers Holiday Festival, where they will experience the beautiful, newly-renovated Centerfield Plaza and find lots of holiday surprises, interactive experiences worthy of posting on social media, and larger-than-life holiday scenic and light installations that will provide fun for the whole family.
The celebration will be held at Dodger Stadium nightly from 5:00 p.m. to 10:00 p.m. on weekdays, and from 3:00 p.m. to 10:00 p.m. on weekends, from November 26 through December 31, 2021.
For the first time ever, attendees can celebrate a white Christmas at Dodger Stadium with an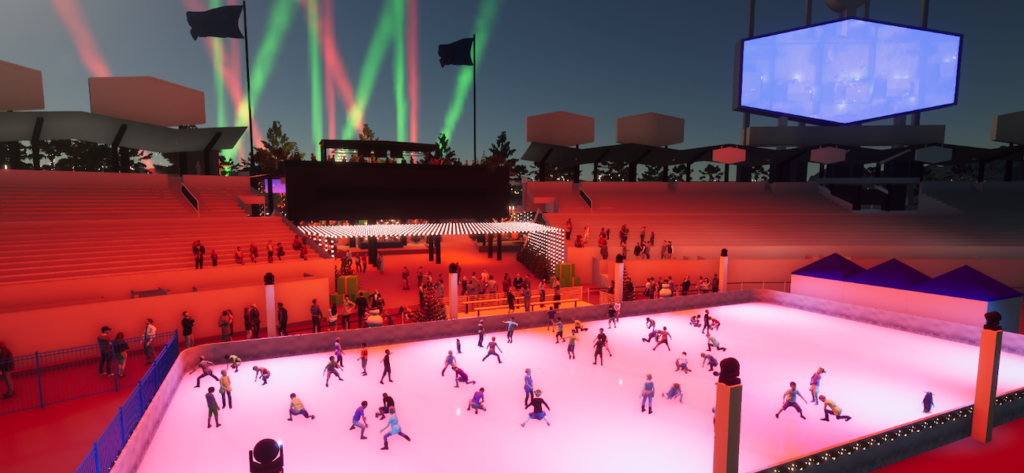 illuminated, open-air ice skating experience constructed across the outfield. The 80' x 60' ice rink will run 30-minute sessions throughout each event date. Additionally, Santa Claus will be landing his sleigh in the bullpen of the third-oldest ballpark in the Major Leagues this winter!
The night continues with plenty of fun for all members of the family, including full-service bars, holiday-themed food, and more Dodger Stadium favorite concessions like Shake Shack. The Dodgers Holiday Festival is appropriate for ALL ages. Other exciting experiences for the family include the chance to:
Guests can take pictures for this year's family holiday card by choosing from a multitude of backdrops, including giant wrapped presents, snowmen, Santa's sleigh, and a 40-foot Christmas tree.
Other attractions:
Meet and interact with Santa's elves.
Stroll through a winter wonderland of light displays and interactive installations, including light tunnels and the Northern Lights immersive experience.
Enjoy holiday music throughout the event and nightly live musical performances.
Create and take home a holiday keepsake.
Jump into the holiday season in one of the bounce houses.
Check off holiday gift shopping at the Dodgers' merchandise outlets in the Centerfield Plaza.
Come hungry and thirsty, as the Dodgers Holiday Festival will have a wide selection of seasonally-inspired foods, including grilled entrees, desserts, cocktails, craft beers, wines, and hot chocolate.
The Los Angeles Dodgers Foundation (LADF) will be operating their Homebase in the Centerfield Plaza, where guests may purchase holiday gifts such as $10 t-shirts, bobbleheads, autographed memorabilia, and more, while supplies last. At their Homebase, LADF will also be collecting new or gently-used baseball and softball gloves for use in their sports-based youth development program, Dodgers RBI. When purchasing tickets for the Holiday Festival, guests may add a donation to support LADF's mission of tackling the most pressing problems facing Los Angeles by helping to improve education and health care, combating homelessness, and assuring social justice for all Angelenos.