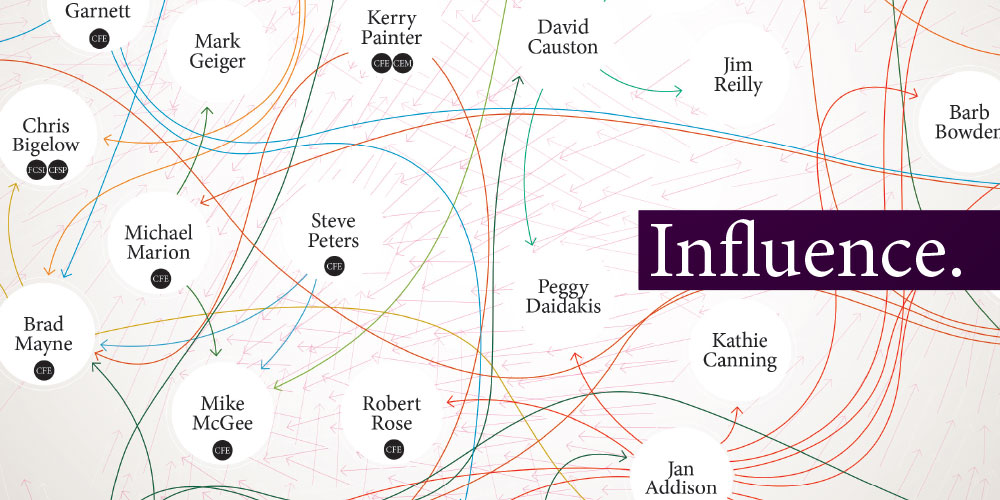 Imagine the most influential person in your life. Perhaps it's a parent. A friend. Maybe a former boss. Now imagine why this person is influential. Was it the way she lead? Or could it have been the way he conducted himself?
Influence, while not always acknowledged directly, is what drives progress.
"Without the driving forces of influence the standard trade tools, no matter how cultivated or polished, can be blunt instruments," Rob Cotter wrote for our cover story in the April/May issue of FM magazine. "Within influence's realm, quantum leaps of progress can be made, and industry leaders are fully aware of its strength and the key role it plays in achieving their goals."
To determine the venue management industry's influencers, we sent out three calls for nominees, and those nominees were then asked to nominate their influencers. We put the process completely in our members' hands. We featured as many names as we could in the infographic; however, a list of influence can never be complete, because every day brings with it new ideas and inspirations.
"As today's industry leaders continue to plant seeds of change through their daily decisions and connection building, they make sure that their seeds are watered with the nectar of influence," Cotter wrote. "Successful leadership is driving forward industry change for the organizational and the greater good, and in the spirit of their great American forebears is proving to be doing so through a solid declaration of influence."
Please read "The Declaration of Influence," and share with us who influences you and why. Influence is a conversation that will never go out of style.