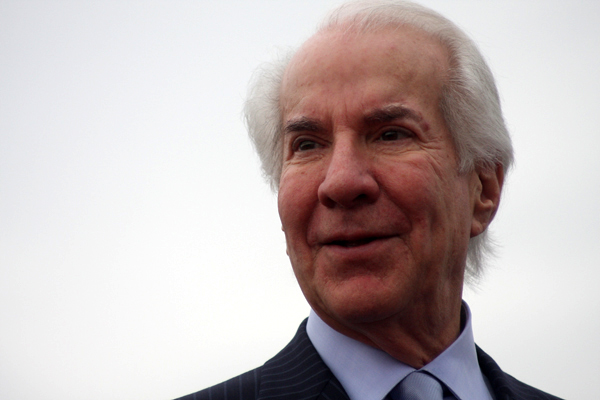 Comcast Spectacor chairman and Philadelphia Flyers owner Ed Snider passed away today, his family announced.
"We are deeply saddened to announce that our father, Ed Snider has died after a two-year battle with cancer. He was 83," the family said in a statement. "Our dad was loved and admired for his big heart, generosity of spirit, and dedication to his family. Despite his considerable business achievements and public profile, he was first and foremost a family man. He never missed a birthday, important family event or the opportunity to offer encouragement. We turned first to him for advice in our personal and professional lives. We grew up tagging behind him in arenas, stadiums, and locker rooms; and his players, management, and team personnel were our extended family. He treated his employees with respect regardless of rank or position, and the man they called 'Mr. Snider' always would have preferred simply to be called 'Ed.'"
Snider created the Flyers in 1967 and took control of the Spectrum where the team played in 1972. The Flyers won the Stanley Cup in 1974 and 1975, becoming the first NHL expansion team to win the championship.
In 1980, Snider created Spectacor Management Inc., and in 1988, he joined the company with the Hyatt Corp. to create Spectacor Management Group (SMG). ARAMARK Corp. joined the group in 1991. Snider sold his interest in SMG in 1997.
Comcast-Spectacor began in 1996 when Snider joined with Comcast Corp., and in 2000, Comcast-Spectacor partnered with Globe Facility Services to become Global Spectrum. The company also formed Ovations Food Services and acquired 100 percent of ticketing company Paciolan in 2010.
In addition to his facility management expertise, Snider was recognized for his contributions to sports by being inducted into four hall of fames—the Hockey Hall of Fame, the Philadelphia Jewish Sports Hall of Fame, the Philadelphia Sports Hall of Fame, and the U.S. Hockey Hall of Fame.
He founded the Ed Snider Youth Hockey foundation to help inner city children connect through the sport of hockey.
"Ed was a true visionary and a pioneer who did tremendous things for our city and for the sport of hockey," Philadelphia Eagles CEO Jeffrey Lurie said in a statement. "He was driven by a relentless pursuit of winning and his passion for the sport was genuine. That's one of the reasons I think he was so loved and respected by the fans of our city and by his players and staff. They knew he cared just as much as they did.
"Under Ed's guidance, the Flyers became one of the most consistently successful franchises in the NHL, and he used his leadership to help foster a classy organization across the board," Lurie continued. "But perhaps more than anything, I think the legacy that Ed will leave behind is his commitment to helping young people in our city succeed in life through his youth hockey foundation."
Snider is survived by his wife, six children, and 15 grandchildren.
(Image: Michael Alan Goldberg/Creative Commons)