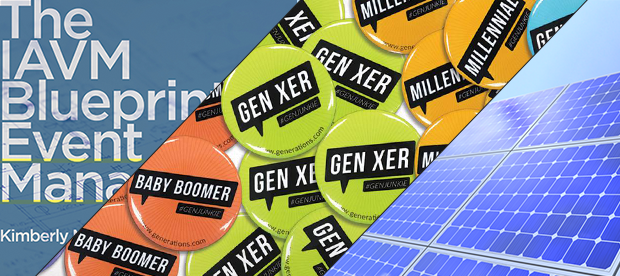 The Education Corner in the IAVM booth (#1435) at VenueConnect is a great place to meet others and learn from experts who will help you succeed in your professional development. Here are a few highlights you can expect to experience.
IAVM Textbook Authors
Saturday, July 23, 3:30 – 7:30 p.m.
Sunday, July 24, 10:30 a.m. – 2:30 p.m.
Steve Camp, CFE, retired venue Manager
Lee A. Esckilsen, CFE, CHE, associate professor, Johnson & Wales University
Adonis "Sporty" Jeralds, CFE, clinical instructor, University of South Carolina
Kimberly Mahoney, PhD, assistant professor, sport management, University of New Haven College of Business
Stop by and meet the authors of the IAVM textbook and get it signed. They'll be on hand to talk about its content and any other questions you may have. There will be a special VenueConnect attendee price of $75 for the book. They'll lead a session "Maximizing the Use of the IAVM Textbook" (Monday, July, 25, 8:30 – 9:30 a.m.) in room 101 ABC.
The IAVM Blueprint: Event Management
IAVM is happy to announce that the first in our new reference series, The IAVM Blueprint, is making its debut at VenueConnect! The IAVM Blueprint provides in-depth exploration of topics fundamental to successful venue operations. Our first topic is event management within a public assembly venue and is written specifically for industry professionals. The IAVM Blueprint: Event Management guides the reader through the event planning process and includes more than 400 pages of industry documents from a variety of venues. We're also offering a special VenueConnect attendee price of $39.99. Stop by the Education Corner, check it out, and speak with the author!
Meet and Greet with UpStart Keynote Speaker
Saturday, July 23, 4:30 – 5 p.m.
Phil Gwoke, generational expert and keynote speaker with BridgeWorks, LLC, will be on hand to meet attendees and discuss managing multiple generations in the workplace.
Career Resource Center
Saturday, July 23, 3:30 – 5 p.m.
Sunday, July 24, 1 – 2:30 p.m.
Mark Gnatovic, senior vice president of SearchWide, is sharing his vast experiences and resources with IAVM attendees looking to gain insight on positioning themselves, or their company, for success in today's job market. Also be sure to stop by for Mark's guest appearance at the The Venue Podcast: Career Edition on Sunday from 10:40 – 11 a.m. at Booth #1347.
Sustainability Committee
Sunday, July 24, 11:30 a.m. – 1:30 p.m.
Come by to speak with the IAVM Sustainably Committee about all of your 'green' questions. Also don't miss their two Fireside Chats on Sunday: 2016 Sustainability VenueDataSource Report – 11:55a – 12:15p &  The Evolution of R22 & How it will Affect your Future Refrigerants – 12:20-12:40p.