An all-star panel of experts took the stage to discuss The State of EMSSI: A Hands-on Approach to Safety and Security with the Portal.
The portal? IAVM, in partnership with Simpleview, is preparing a portal for those in the convention center sector to enter valuable information regarding safety and security measures and protocols at their venues, all designed to eventually help create guidelines that will bring the sector closer in alignment with their brethren in the arena and stadium world where such security measures are mostly already in place. Such compliance and certification will also be recognized by the Department of Homeland Secyurity Safety Act Office.
With IAVM Education Director Mark Herrera setting the stage for the panelists, a room full of attendees soaked up the knowledge and participated in a lively Q&A session following the session. Herrera noted that 47 terrorist plots have been foiled since 9/11. That in itself should give any public assembly venue cause for concern and the desire to make sure their facilities are as safe as possible for the thousands of guests who enter each time.
"The premise is that if there is one attack against a convention center that it affects us all," said Bill Flynn, president, Garda Risk Management. "Convention centers lack the consistent industry-wide guidelines and best practices that we find primarily in the sports leagues, which are at the front.
"We helped write guidelines for this industry, but it has to be by the industry and for the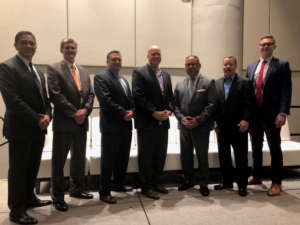 industry to be successful. Your industry has to have buy-in. It can't just be the convention center's responsibility, but your vendors and your partners as well."
Flynn noted that while stadiums and arenas largely have known events that repeat themselves, convention centers are unique in that different events move in and out. While there might be a floral convention at one end of the building not posing much of a threat, another end of the facility might have a more charged event taking place.
John Gonzalez, George R. Brown Convention Center in Houston, and Brett Mitchell, Overland Park Convention Center in Overland Park, Kansas, discussed their respective participation as test pilot venues for the portal that represented a major city convention center versus a small to mid-size convention center.
Gonzalez showed a slide at his facility's labor check-in and noted that while employees must have an ESCA badge, there are now also different colored wristbands that expire each day at midnight and a new color must be worn the next day for entrance. Magnetometers are also part of the admittance.
Mitchell said that his venue's guidelines must be flexible and realistic and added that although he has been at the facility since 2001 he only recently discovered a very important need to partner with an emergency response team.
"I had no idea of the resources available to us," he said. "Now we have monthly meetings. Invite them to lunch. Build those relationships."
Matt Dimmick, security and emergency readiness specialist with STV Inc., served as a third-party reviewer for the two pilot venues and said that good work was being done as the gap between the guidelines at the venues and the Safety Act Office was being closed.
Speaking about the portal, Andrew McLeod of Simpleview noted that there are seven domains or courses that those with access to the portal will see that include questions such as do you do this, how do you do this, and why do you do this? All questions and answers are obviously important in helping build the eventual guidelines that will benefit all in the sector.