By Nancy Walker
The Los Angeles Convention Center (LACC), owned by the City of Los Angeles and managed by ASM Global, announced that the facility has been awarded LEED certification at the Gold level for Existing Buildings Operations & Maintenance (LEED-EB: O&M) for the third time. LEED (Leadership in Energy and Environmental Design), developed by the U.S. Green Building Council (USGBC), is the most widely used green building rating system in the world and an international symbol of excellence. Through design, construction and operations practices that improve environmental and human health, LEED-certified buildings are helping to make the world more sustainable.
The LACC first achieved Silver certification in 2008 and was certified at the Gold level in 2010 and again in 2015. LACC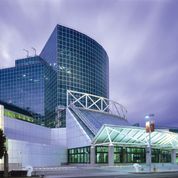 achieved LEED Gold re-certification in recognition of implementing practical and measurable strategies and solutions in areas including water savings, energy efficiency/management, materials selection and indoor environmental quality. Certified under LEED V4.1 – adapting ARC Skoru platform, the new LEED guidelines ensure team effort, healthy building practices, performance oriented sustainable programs, and efforts toward zero waste.
"Achieving LEED certification is more than just implementing sustainable practices. It represents a commitment to making the world a better place and influencing others to do better," said Mahesh Ramanujam, president and CEO, USGBC. "Given the extraordinary importance of climate protection and the central role buildings play in that effort, the Los Angeles Convention Center is creating a path forward through their LEED certification."
"Congratulations to the Los Angeles Convention Center for continuing to prioritize the environmental practices that have once again earned the LEED Gold re-certification. The values and goals inherent in the LEED program match with goals set forth by the City of Los Angeles and we applaud the LACC's team for weaving these components into the fabric of their operation," said Doane Liu, Executive Director of the Los Angeles Department of Convention & Tourism Development.
"Environmental sustainability is embedded in the Los Angeles Convention Center's culture and is considered with every decision in our day-to-day operation," commented Ellen Schwartz, General Manager of the Los Angeles Convention Center. "The venue is nationally recognized as a champion of environmental stewardship and social responsibility. We remain steadfast in our efforts to reduce the venue's environmental footprint by continually seeking new sustainable practices and products."
Nancy Walker is Vice President, Sales & Marketing at the Los Angeles Convention Center.