The notable rise of eSports is sparking an entirely new content opportunity for venues of all types, as stadiums, convention centers, and everything in-between prove to be a potential host for the on-screen battles. Joining the mix is the new eSports Arena, the first venue in the U.S. dedicated to hosting live gaming events. The venue—opening soon and located in downtown Santa Ana, California—will feature modular gaming stations that can be moved to facilitate conversion into a 1,000-seat auditorium. The arrival of this new arena mirrors the rapid growth of online gaming as a spectator sport, evidenced by this graph included in a 2014 report available from SuperData Research: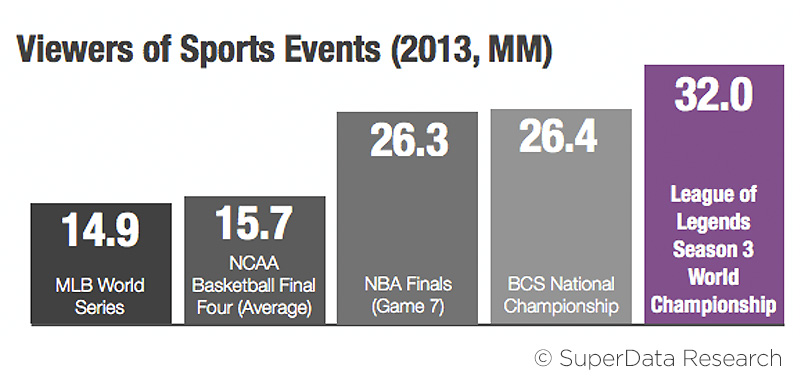 As the pool of online viewers continues to rocket upward, venues are responding by becoming the real-world space for this massive online community. On October 4, 2013, a US$1 million cash prize was awarded to the winning team in the League of Legends Season 3 Championship. In addition to the 32-million online viewers, the finals were hosted live at the sold-out Staples Center, with all 18,000 tickets being purchased in one hour.
This morning, a new BBC story highlighted Insomnia, a recent eSport event held in a massive tent covering the football pitch of Ricoh Arena in Coventry, England. The reported debate over using the term "sport" to describe this new live event might be interesting to a few, but the more important conversation for the IAVM community is—how is your venue going to connect to this immense new pool of spectators?
Additional slides from SuperData Research: