By Kalyn Sisco
EventBooking, a cloud-based venue software company that serves over 1,000 clients worldwide, announced that they now have local representation in Europe.
To further expand EventBooking's global footprint, President Steve Mackenzie believed it was the right time to spearhead more localized efforts in Europe, as the company did so last year in the Asia Pacific region. Tobias Lienhard and Jutta Kretzer are the appointed partners to do co—contributing to the sales, support, and implementation of VenueOps, EventBooking's latest venue management application which debuted in 2017.
"I am absolutely delighted to announce a partnership in Europe with two incredibly talented former colleagues,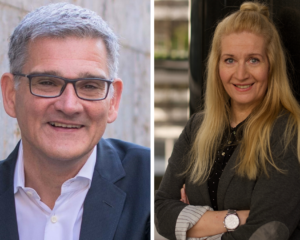 Mr. Tobias Lienhard and Ms. Jutta Kretzer," Mackenzie said. "Both have been in the venue industry for most of their careers and are a perfect fit for EventBooking. They both share our passion for providing the same top-notch service we offer in other parts of the world."
Tobias will preside over sales efforts in the region, while Jutta will provide implementation and support services to clients. Both are based in Germany and speak multiple languages. EventBooking currently serves over 50 venues in the region, including the 02 (London), AccorHotels Hotel Arena (Paris), and Circuit Barcelona Catalunya (Barcelona).
In yet another step to better serve the international community, VenueOps will be available in German, French, and Spanish in just a few days. In regard to international security, EventBooking already offers hosting services in Europe via Amazon Web Services (AWS) so all data remains safe and secure.
Kalyn Sisco is Marketing Manager at EventBooking.