EventBooking was named the winner of a Bronze Stevie® Award through the Annual American Business Awards, in the Communications / PR Campaign of the Year category. Their winning PR Campaign was the unique Road to VenueConnect road trip, in which three staff members toured the nation in an RV to have face-to-face discussions with venue professionals in 18 marquee venues across the country. At each of the 18 stops, EventBooking facilitated round-table discussions to explore how they could further evolve their software to be a "dream tool" for those in the venue and events industry. The trip ended at IAVM's VenueConnect 2017 in Nashville and was covered by the touring group in Facility Manager magazine.
A division within the Stevie Awards, The American Business Awards are the United States' premier business awards program. All organizations operating in the country were eligible to submit nominations for the awards that were presented in June at a gala ceremony at the Marriott Marquis Hotel in New York.
More than 3,700 nominations from organizations of all sizes and in virtually every industry were submitted this year for consideration in a wide range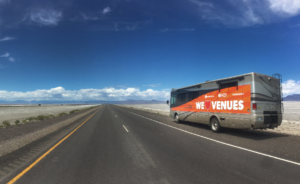 of categories, including Best New Product or Service of the Year, Marketing Campaign of the Year, Live Event of the Year, and App of the Year, among others.
The idea for the Road to VenueConnect campaign evolved into a mission to interact with as many venue professionals as possible, with the intent to build stronger relationships through learning more about any needs EventBooking could possibly meet. Founder and CEO John Platillero elaborated on this mission, stating, "As a venue software company, we were curious: What issues do people have day-to-day as they run their venue? How does venue technology currently help them in their job? What sort of advancements in venue technology could alleviate those? Far from a sales pitch of any kind, we wanted to recognize the hard-working people of the events industry and facilitate discussions—discussions that would give EventBooking more insight as to how we could make their jobs more seamless."
More than 40 pages of notes were collected as a result of hearing feedback from over 150 venue professionals. All notes were organized, archived, and presented to the EventBooking software development team so the most popular ideas could be acted upon / programmed into the software. Media coverage of the journey included the four-page feature article in Facility Manager Magazine, an online feature in IQ Magazine, a live guest appearance on IAVM's monthly podcast The Venue, as well as a 20-minute speaking opportunity on the IAVM trade show floor as part of VenueChat.
To select this year's Stevie Award winners, more than 200 professionals worldwide participated in the judging process. The Road to VenueConnect garnered multiple comments from the anonymous judges, such as:
"Amazing idea and great initiative. Technology has made life easier but greatly reduced face-to-face contact, which is so very important. Great job guys."
"I'm a big believer in the value of face-to-face meetings with customers, and this sounds like an excellent way to connect with customers, capture market intelligence, and generate publicity in one fell swoop."
Michael Gallagher, president and founder of the Stevie Awards, stated that the nominations submitted for The 2018 American Business Awards were "outstanding," and, "the competition was intense. Those recognized as Stevie Award winners should be immensely proud of this accomplishment." Details about The American Business Awards and the list of 2018 Stevie winners are available at www.StevieAwards.com/ABA.