By R.V. Baugus
As shared last month in IAVM News, Ungerboeck and EventBooking, two leading software providers of event and venue management tools, announced a merger that will enable the unified company to offer customers an integrated set of capabilities that further enhance the world-class solutions they provide today. The consolidation will provide customers with expedited technology enhancements and accelerated innovation, while continuing the focus on customer success.
In the midst of the busy time spent bringing the merger to fruition, we were able to capture time with the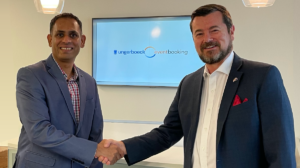 leaders of both companies as Manish Chandak of Ungerboeck and Steve Mackenzie of EventBooking joined me for an interview to further discuss the merger.
RV: What strengths do you bring to each other as you blend into an organization?
Steve Mackenzie: Certainly, one of the strengths that EventBooking brings to the merger is being a newer company in terms of the technology and some newer innovations that we've done with a really big focus on customer service. Obviously, Ungerboeck has had a big focus on that, too, but we're looking to where we can really help each other. There are definitely some things to learn between the two of us there. From the EventBooking side, what we're definitely excited about is the ability to now have a much stronger presence in Europe and the international realm. We have just started working in those areas recently and so having the maturity of a company like Ungerboeck that is already established there is really going to help strengthen the brands there as well.
Manish Chandak: It's not so much what do you bring and what Ungerboeck brings because, yes, that's obviously very important, but I think the word you said was "blend." I think that broadly our brand can benefit from somebody who has been out there. Steve was formerly Ungerboeck. We look at Steve as sort of our brand ambassador for customers, and I think that in and of itself already is a good value-add.
The other thing I think we bring together is just the breadth and depth of the number of venues that we serve. We really now have a lot more onus to sort of say, let's do some really, really good innovations because we have so many customers together now that are depending on it. Very shortly, it's just going to be one company. All of these brands that we have will all be under one umbrella. A lot of times somewhere early in the process we were looking at what's good here, what's good here, but for the future is, No. 1, having such people like Steve and John (Platillero, EventBooking Founder) and others and the other is the benefit of that scale, where we can actually do more interesting things together.
Definitely both of us have a lot of history in the industry, but the common international experience and a lot of the common things that we do we don't have to do as separate companies anymore. We can now just take the platform and do what needs to come in the future. The industry is going to be amazed in how we pivot to take the goodness in the platforms and sort of re-route some of the investments that we have been overlapping with each other and route it into something that is really and truly extraordinary in terms of the new value that we can bring. The scale allows us to do those types of things. Individually, it would have taken a lot more on either of our sides to do that.
RV: When did talks begin and why?
MC: I've been talking to Steve forever, ever since I came to this company!
SM: To Manish's point, ever since Manish has been at Ungerboeck, we have met each other several times over the years and it's been great and really friendly. Even though we were obviously competing for business, I truly value Manish for what he's done for Ungerboeck and now I'm super excited with him leading the way with the new company. As much as he's given me a rep, I want to give him one, too. The sky is the limit now with instead of us thinking how can we beat each other up, now it is what can we do for the industry?
RV: Will the company be Ungerboech?
MC: The company name will be Ungerboeck; we love the brand name. We will continue to grow those brands. The brand name will live and probably do very good things going forward.
What reaction do you think you will get from your clients?
SM: I think there will be a lot of jaw drops. What we've been telling our respective teams and that has been a gradual process over the past few weeks is it has been fascinating watching because unfortunately a lot of this with COVID had to be on Zoom, but it has been amazing watching the reactions and I don't think that anybody picked that this was going to happen.
RV: Ungerboeck headquarters in Missouri and EventBooking in Tennessee. What happens to the offices?
MC: We have our offices in Singapore and Australia , China, France, and Germany. The staff that we have in Knoxville … this is not at all about any kind of cost reduction, but the kind of talent that we're going to bring in to the company. Those people comfortable coming to the Knoxville office or the people here who ask, Can I go to the Smoky Mountains for a month and work in the Knoxville office. But we definitely want to keep all of the talent that we have. For EventBooking, if they are comfortable working there, then by all means we'll continue to do that.
RV? Are there any other ways that staff is impacted?
SM: Just to Manish's point, all of the discussion and conversation has been how can we scout even further? We're on a rocket ship and adding fuel to it. So, it's exciting to know that now we've got the resources behind us to really start innovating as Manish mentioned earlier. Resources means capital, and human capital too.
MC: On the staffing side, I want to add one other thing. Over the last 20 years we have probably hired around 30 or 40 people from the industry who did not want to continue at the venue they were at or were furloughed or whatever. Between our companies even more so we've been hiring people and the reason we've been doing that is because our company needs industry expertise. We've hired people from the Washington Convention Center, and from other convention centers and trade show people who have actually come to our company. So, from a staffing standpoint I wanted to point that out, because I think it's really important and the reason we have been doing the staffing is because we absolutely believe that the events industry is going to come roaring back in six months, nine months, whatever it is, and we don't want to be caught or unprepared for the growth and for the consulting and the help that our customers are going to need. That sort of addresses the other point of what we're going to do with staffing for the path that we're on.
RV: I know that you both are extremely excited about the prospects for the future. Just how excited can you share that you are?
SM: What I get excited about is now we can serve the industry even better. We've been talking about this idea of one company and one mission. That's truly what it's going to become. The focus is now wholly and solely on how we can serve this industry so much better. That's stuff that's getting me excited. I can't wait to get going.
MC: In addition to what Steve just said, I think that there is now so much more value that technology providers can bring to this industry. It is an industry that is not necessarily using all that technology has to offer for today. I would say this is the beginning of us really making significant moves in terms of really bringing technology to this industry that is built on customer service. We're not a typical software company that is out there. We're going to be very, very integrated and very, very focused on this industry. So basically, it's software developed by the people in the industry with an industry type of mindset is what we're going for.
We still have our training going on big-time. As a way to get a job here our employee from the Washington Convention Center actually got himself certified. He was like, look guys, I am so interested in working for Ungerboeck that I got certified. To me, when people go out of their way to say, I'm willing to learn and get certified, that's just gold. We're like, OK, we don't need to ask any more questions. You're hired!
We just had over 1,000 people get certified. This is only during the COVID period. It's just been mind-blowing for us. When events are dead, what purpose do you give them? I think that was a big driver of this. Let's give them something that they can go back and do something that they feel they're moving forward in this profession because they felt they weren't getting a ton of experience.
SM: Talking about the certification that Ungerboeck did during that time, so many companies I think in our industry when COVID hit they took the approach of let's be like a turtle and crawl under a shell and try to just wait this out, save money, and hope we make it to the other end. This is one of the great synergies I think between EventBooking and Ungerboeck is that both companies saw it as an opportunity to say what can we do to better serve the industry and what can we do so that at the other end of this we come out stronger and to Manish's point earlier that we're prepared for this. We know that events are going to come roaring back bigger and better than ever so what can we do to be prepared for that. Again, that was one of the key synergies that allowed us to bring this deal together is that we are thinking of the same things. We were seeing COVID as a terrible thing, probably the worst thing to ever happen to