By Alexandra Serrano
Exhibition Place has signed the Sustainable Tourism 2030 Pledge, joining a global movement of businesses committed to creating a sustainable future for the tourism industry. This pledge demonstrates Exhibition Place's commitment to improving the sustainability performance of its business between now and 2030 in support of the UN's Sustainable Development Goals.
Exhibition Place plans to amplify its sustainability performance by enhancing annual targets for all
aspects of the venue's operations – from infrastructure developments all the way to how events are managed.
"At Exhibition Place, we have long understood the importance of sustainability and our GREENSmart initiatives span almost two decades of progress in this realm," said Exhibition Place General Manager Laura Purdy. "Today, we remain dedicated to reducing our impact on the planet by going beyond conventional industry practices and supporting the efforts of likeminded event organizers. Taking the Sustainable Tourism 2030 Pledge represents another step in becoming Toronto's sustainable venue of choice and we are excited to expand on our longstanding achievements."
Reducing the environmental impact of events remains a strong focus in the global exhibitions industry as organizers seek to embed sustainability into their operations. Exhibition Place takes pride in supporting the ambitions of likeminded clients including the One of A Kind Show, whose parent company Informa is recognized as leader in the ESG space.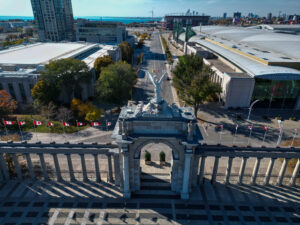 "As a part of Informa, One of A Kind has aligned it efforts to contribute to our company's commitment in building a sustainable business. Through the FasterForward program, our aim is to become a positive impact business by embedding sustainability into everything we do, and seizing opportunities to help our customers and communities to do the same," said Show Director Janice Leung. "We greatly value having a venue partner like Exhibition Place who boasts a longstanding dedication to sustainable practices. These practices support our own ambitions of becoming zero waste and net zero carbon by 2030 while creating annual events that meet the high standards of our customers."
Additional leading-edge environmental initiatives at Exhibition Place include Silver and Platinum recognition through the Leadership in Energy and Environmental Design (LEED®) rating system, renewable wind, solar and geothermal Energy Production, innovative building operation initiatives and urban forestry.
Alexandra Serrano is Manager, Marketing and Communications, Exhibition Place.